Artifact is a digital card game that combines deeply-strategic, competitive gameplay with the rich setting of Dota 2.  It offers the deepest gameplay and the highest-fidelity experience ever seen in a trading card game.It is a fantastic game with many elements that make it stand apart from its competitors and allow it to consistently deliver very close games with a steady supply of impactful decision points.
Collection of all keywords and additional information that does not appear intuitive at first to help assess complex situations. Useful for when you are unable to get into game to read or test everything.
Foreword
Frustrated what some mechanics actually do? Surprised that some effects provide unintended outcomes? In this guide, I will do my best to cover what each keyword does, and include their unique interactions, so you will no longer be caught off guard by advanced plays.
Word of advise, while in-game, hover your cursor over most unique words, logos and numbers, regularly a tooltip will pop up to explain the thing. Always read the wordings provided by the game carefully! Often than not those are enough to dispel your assumptions.
Before continuing to the content of the guide, formatting is as follows:
You may view image references in the 'Gallery' section.
Use ctrl+f to quickly search for specific words!
Phases
Below are phases of a match in the correct sequence.
Keywords A-G
Keywords H-P
Keywords Q-Z
Gallery
(1) Unique Keyword Icons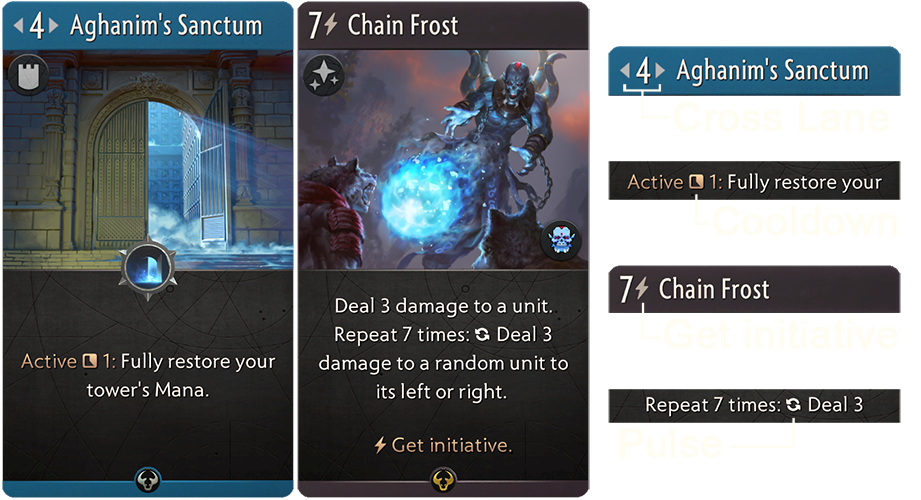 (2) Items
(3) Neighbor Positions
(4) Basic Unit Stats
(5) Card Types
(6) Visible Modifiers
(7) Effect Icons
(8) Improvement Types
(9) Lock
(10) Fountain
This guide was written by Disaccord Noob©