Duck Game is a 2D action video game that features shooting and platforming mechanics. The game has a single-player arcade mode where the user can complete challenges to get tickets.Win over the crowd and gain a following by blasting your feathered friends with Shotguns, Net Guns, Mind Control Rays, Saxophones, Magnet Guns, and pretty much anything else a duck could use as a weapon.
Duck Fit and Duck Mental Fit.
Duck Mental Fit:
° The reaction delay, note that some matches can be really tense depending of the metas and the things that you have in count when you are playing.
° The way of quacking, there is a lot of way of quacks, and for this you also need to take in count that with controller you can have many ways of quacking, i will show you a good trick: in ranked matches or interesting matches, you can get the enemy or the enemies in a cloud of nervous, by the way of quacking, timing of quacking, and when to quack, now: you need to quack in the start of the rounds, with high-pitched quack or low-pitched quack, not the medium because it wont work, then when the round starts, you execute 3 or 4 or 5 quacks fastly, making the enemy or the enemies think that you are better than them, or that you are superior. now let's continue with
Duck Fit:
° The fast quacking, you need to be as fast as possible quacking.
° The movement, yes, the movement. you need to play in normal matches/non-important matches by quacking every time, you will say: But you said that we had to quack on the start of the rounds, well the duck mental fit you need to work use it at its 100% only when you are in a important match or something similar. Now, it will look weird: quacking every time, but this will make your brain work better when you are in important matches, why? Because when you are in important matchs you need to apply duck mental fit, and with that i mean that you need to quack at the start of every rounds 4 times, just how i said before. So if you don't understand too much this item lets order it:
When you are on normal-matches or matches that you think that they aren't important, you quack every time, but when you are on important-matches or matches that you think that they are important, you only quack 4 times in the start of the rounds.
Next step please!
An important thing are the hats: To be more specific, An important things are the hats when you quack.
You have to use a custom hat, or a custom hat that is a recolored hat from official hat, but the important thing is that, when you quack, to make the gameplay better, the hat can't change its form or make an high change. Imagine a square: that square is the hat. Now, the hat has a face, imagine a happy face in the hat. Now, when you quack, the hat needs to keep the form: it has to be a square. the color can't change, or in some cases yes but a little, and the shadow can't change too. so the hat when it is not quacking should be like this:
😀 | But when is quacking it can be like this:
>:D | Or something different, but keeping in count the things that i said previously.
Last step! And probably the harder one.
Now, the last step, is getting a lot of quacks? Do you remember that i previously said that you need thousand of hours to be the master? Well, here is why:
You need to get 50 million of quacks. *coff coff* WOAH, what happened, oh, why i was talking about quacks? *coff* Woah, this is feelling weird, well, let's continue, well 52 million of quacks its really hard, and you have to do it in one profile, so you can get it faster. Here it is a picture of how it will look like: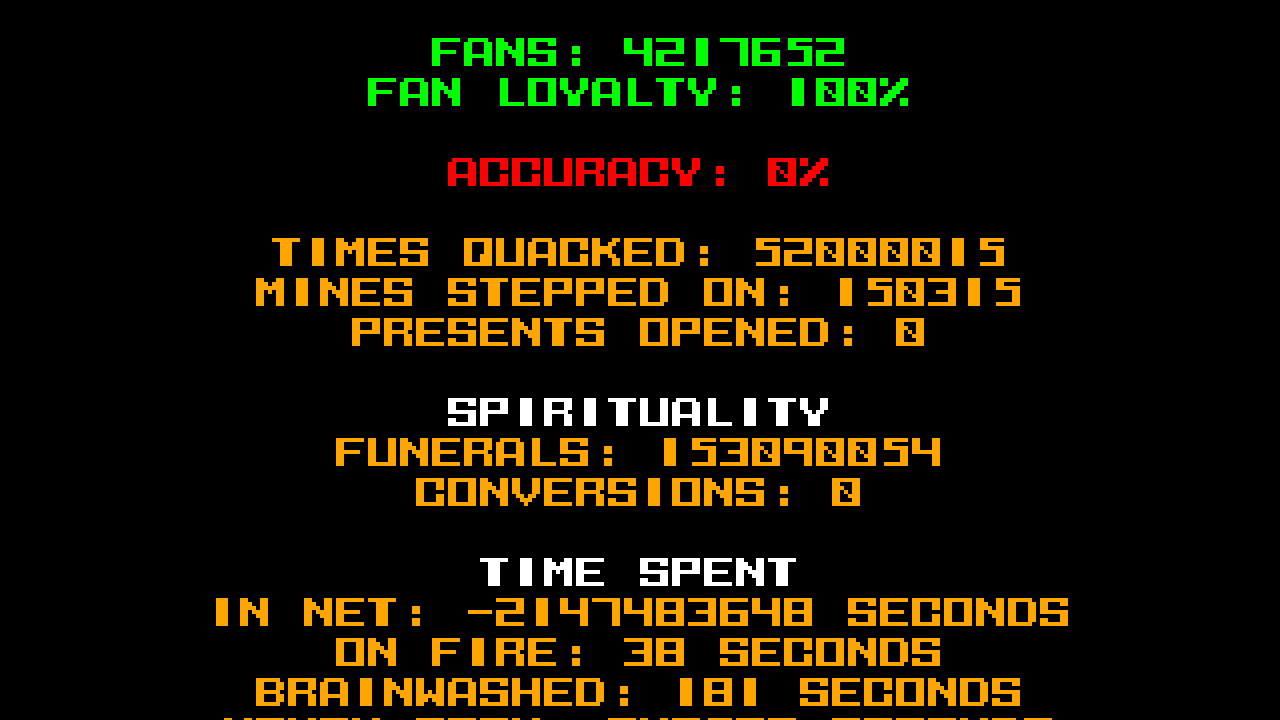 This guide is written by 
Pato