Elite Dangerous is not for *everyone*. It has a steep learning curve, which some think that a feature rather than a bug – I'm somewhere in between.
A Telescopic Stellar Forge Oddity (TSFO) isn't a real term, but defines the strange stellar forge phenomena created by data from telescope imaging. This then forms beautiful "bars" of stars, typically all of the same star class.
List of Telescopic-What-Now?
I didn't know of any term for these oddities, but I've taken to calling them TSFO's. What happens is the Stellar Forge sometimes uses data from telescope imaging, which can often have a bit of contrast against procedurally generated systems. This can make for spectacular sights in the skybox.
Why TSFO's?
TSFO's are among the strangest things spawned by the stellar forge. They're groups of stars of the same star class, and usually have the same contents. Multiple TSFO's contain various systems with 1-3 non-sequence stars, making them great exploration targets. And hey, they do look pretty damn cool.

Orion Nebula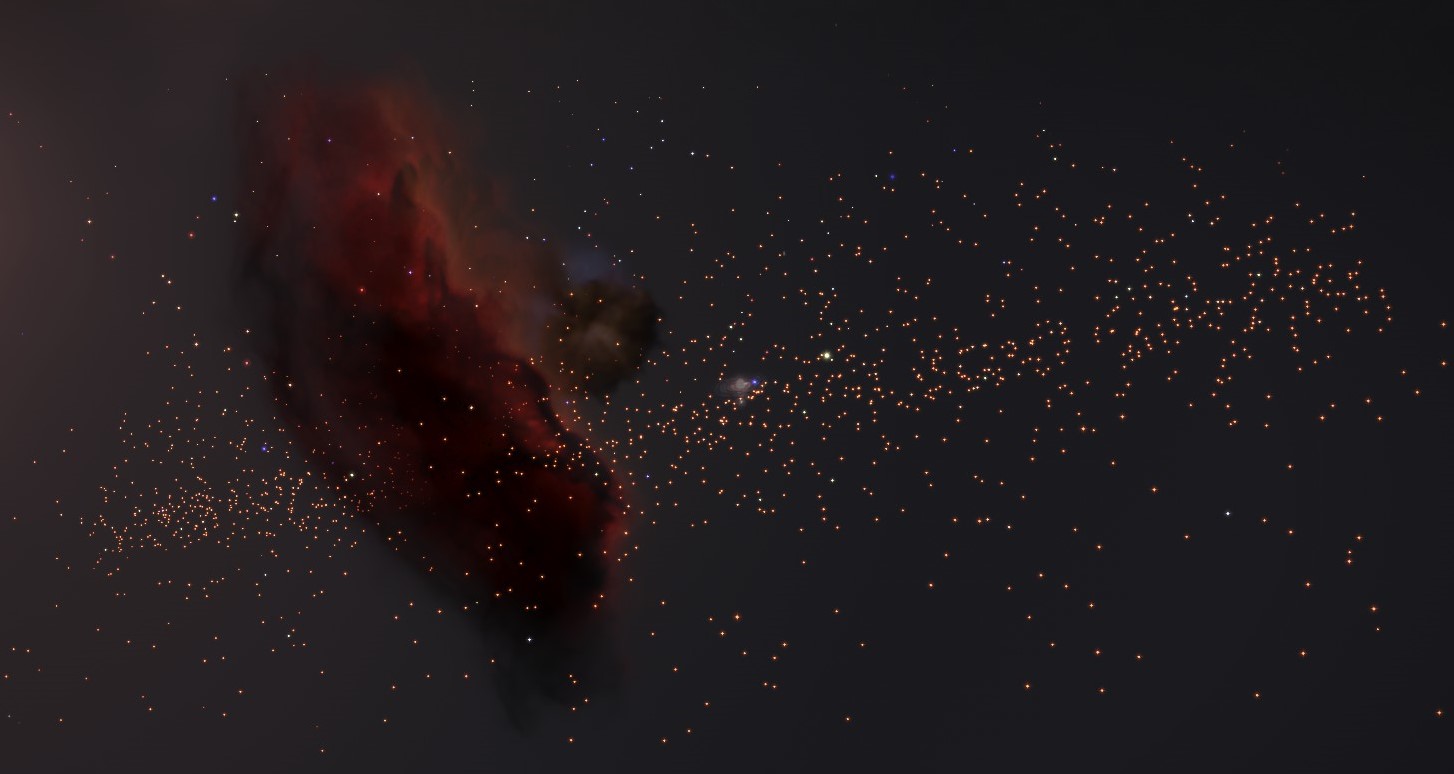 The Orion Nebula easily has the largest TSFO. It's composed of an uncountable number of red dwarves, some having a prefix of "2MASS", and some with "V(XXXX) ORIONIS". Don't expect to see much of anything interesting there though. They're all red dwarves, making the TSFO essentially invisible even while inside it. Barnard's Loop is a pretty cool sight though.
NGC 7822 // S171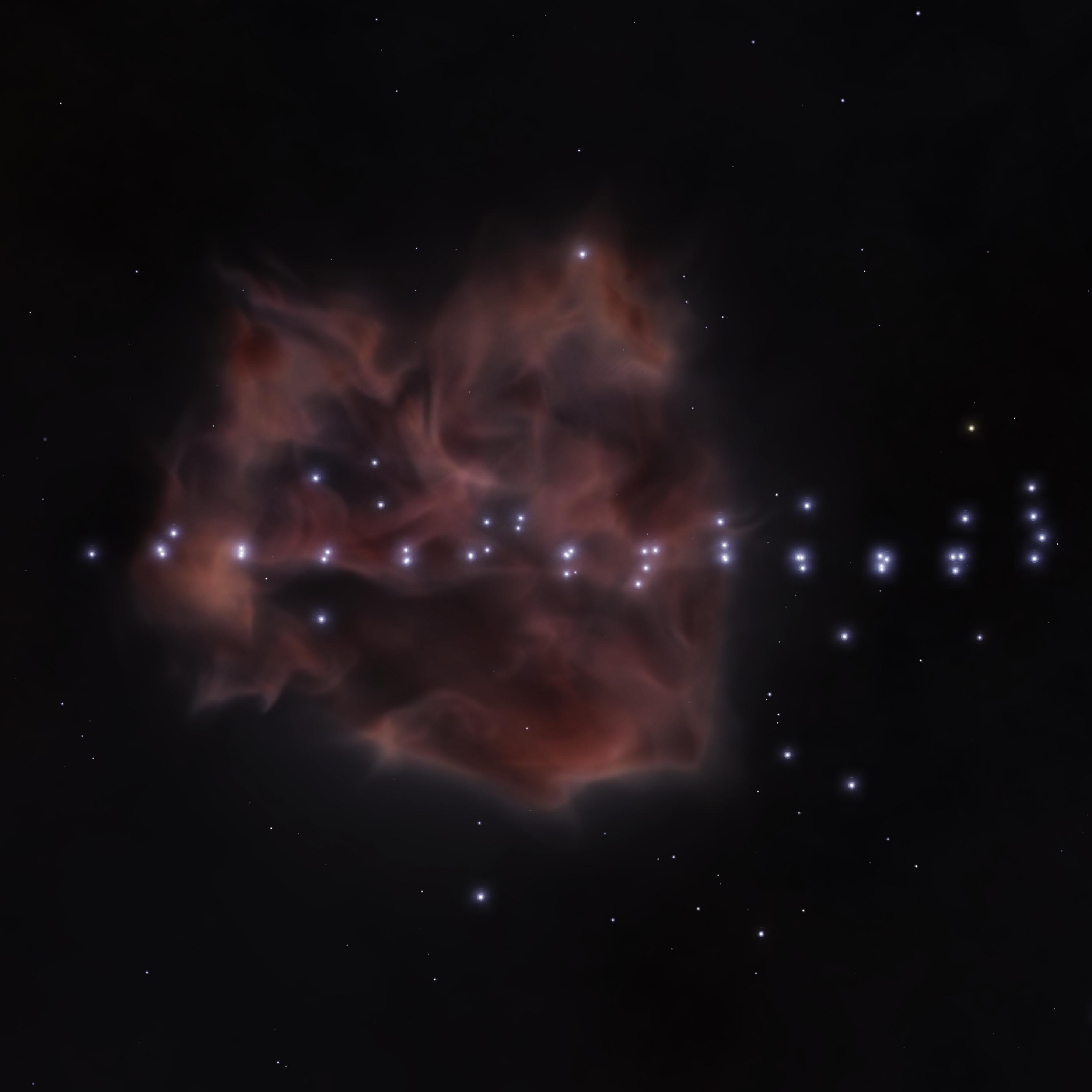 NGC 7822 is quite a treasure. The TSFO is a group of 48 O class stars with the prefix "S171". In contrast to the Orion Nebula, the TSFO is visible from hundreds, maybe thousands of LY away, and gives the nebula its famous luminosity. The real exhibit, however, is the fact that 22 out of 48 of these stars contain a black hole, 6/22 having 2, and 1 having 3. It's also located in the Elysian Shore. Don't expect to get your name on anything while you're there though, all the data's been snagged and almost every planet is mapped. Definitely make you sure check out S171 9.
Below: S171 9, a trinary
black hole system, with the
TSFO in the background.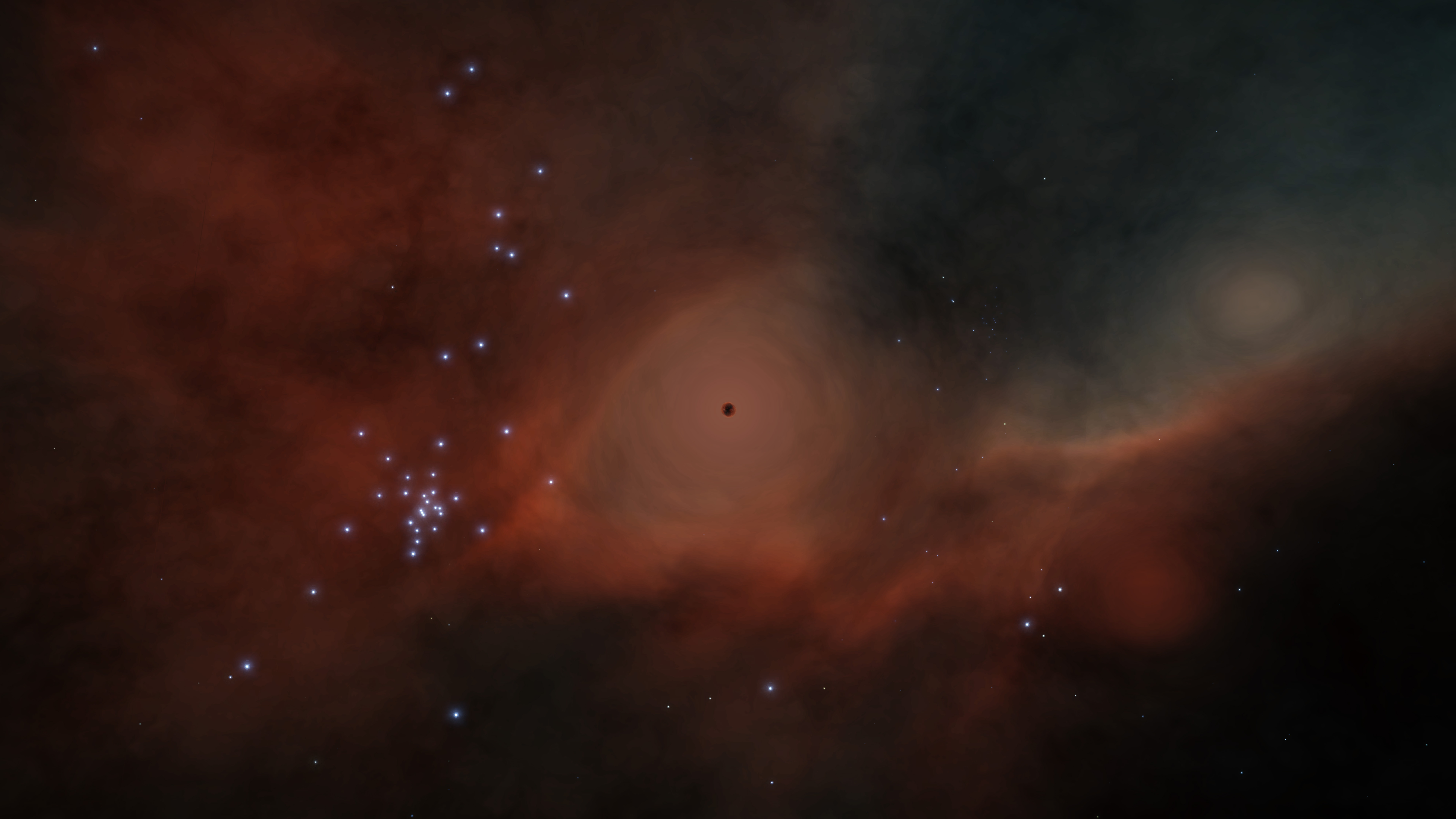 Eagle Nebula // OJV2009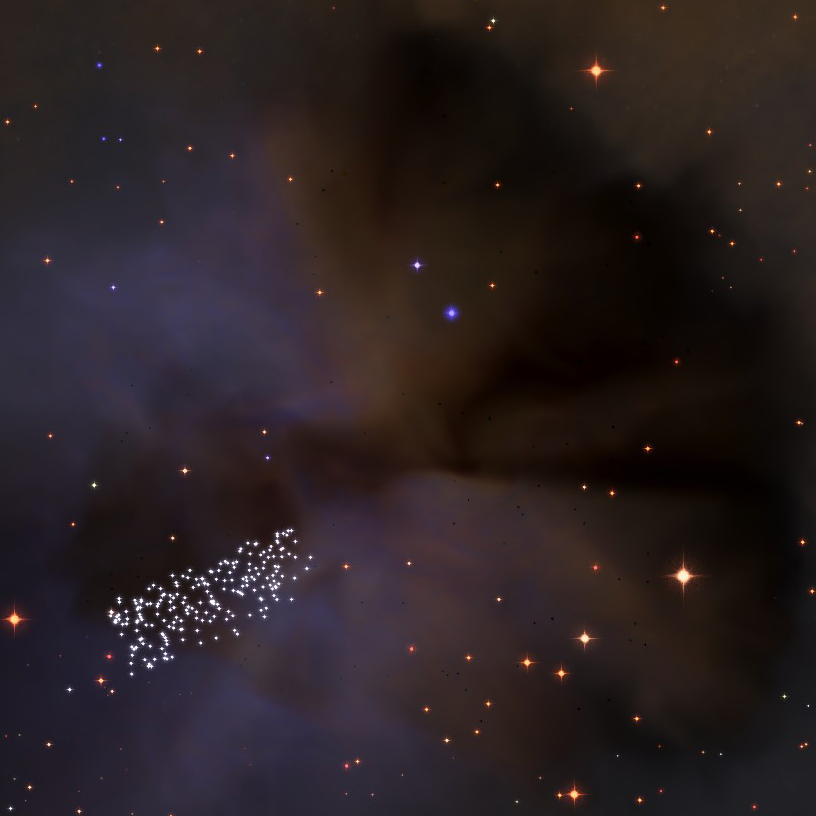 The Eagle Nebula's TSFO is what makes it a worthwhile exploration target. It's a dense cluster of bright F stars which makes for an astounding sight. The majority have "OJV2009" in their names. It's also close to a prison colony, making it an essential POI along the way to the center.
NGC 1333 // 2MASS

NGC 1333 is a very small nebula. It doesn't even have a star in the middle of it, making it an unlikely exploration target. The TSFO is a very long line of red dwarves with the prefix of "2MASS". Just like Orion, they're likely very difficult to see.
Omega Nebula // 2MASS
The Omega Nebula is an average looking nebula. The TSFO is a rectangle of B stars with the prefix of 2MASS. From screenshots I've seen, it's very visible in the skybox. I'd have to confirm when I make my inevitable galactic core trip. The Omega Nebula is relatively close to the Eagle Nebula, and it even has a civilized system by it (OMEGA SECTOR VE-Q B5-15). Definitely stop there along
the way to the Eagle or the core.
Related Posts: