If you love sexy weapon reloads and sounds then you'll get a boner from playing Insurgency: Sandstorm, I know from experience :3. I would highly recommend this game for it's amazing graphics
Basic guide on how to alter the game's super sampling settings. Altering these settings can make the game run better and look better when balanced.
Main Section
Super Sampling is a type of anti-aliasing that is in Insurgency Sandstorm which is very hardware intensive. I found that the options in game were not very satisfying. Setting it to 2.00 makes the game look very crisp but lowers FPS drastically. Lowering the value to 1.25 increases performance but makes the game look somewhat blurry. Super Sampling is probably the setting in game that has had the most effect on performance.
Essentially super sampling makes your GPU render the game at a higher resolution and then scales it down. If you have a 1080p monitor like me, the GPU would be rendering it at 4k instead and then scales it back down. The end product makes the game look very crisp but also can drastically lower performance.
If you want to add a custom setting, you first have to find the game config file. The path to the config file is: (C:)/Users/your name/AppData/Local/Insurgency/Saved/Config/Windows Client/
If you cannot find the AppData folder, in means you cannot see hidden files/folders, so unhide them. You can also press the windows button and type 'run' and then put in %AppData% and go to the same path.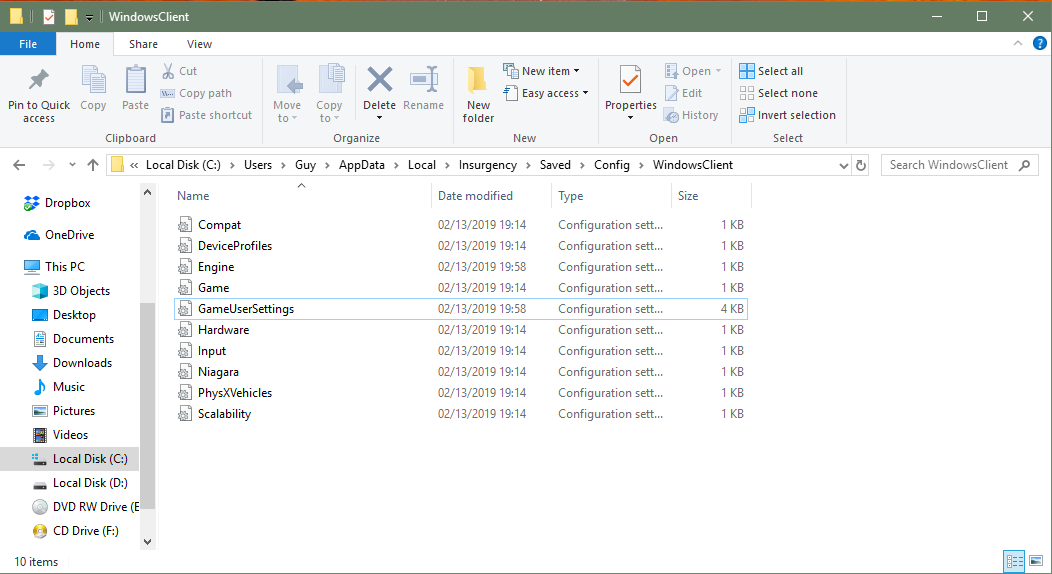 When you're in the folder, open the GameUserSettings.ini in notepad or a similar program.
Press Ctrl+F and type in 'Percentage' searching down.
The setting you will be modifying is: ("r.ScreenPercentage", (Value=175,bModified=True))
Set the value to whatever you want. The option for 2.0 in game would be 200 while 1.25 would be 125. The best way to figure out what you want to set it to is just by editing it and then playing the game. I found 1.75 which is 175 in the config file looks good but also keeps me at a stable 85fps.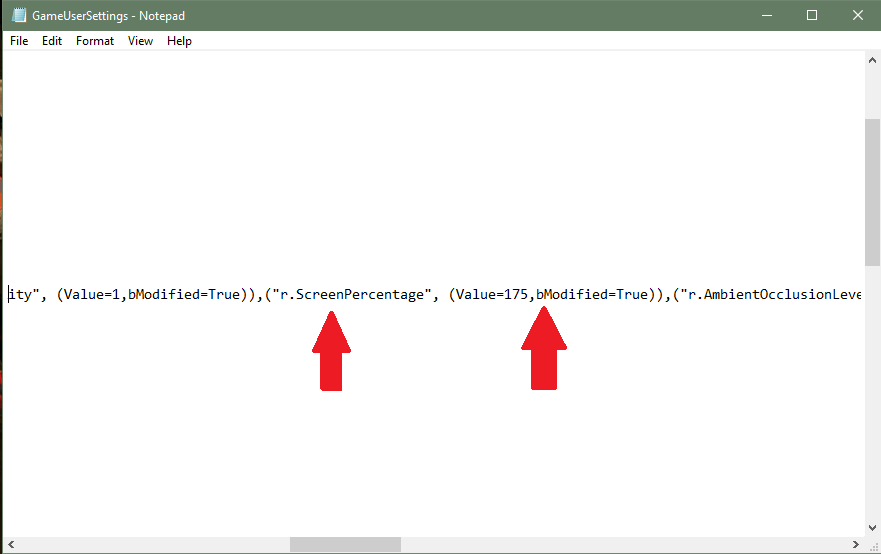 I hope you found this useful, figuring out this trick has helped my game run a lot smoother while still looking good. If you have any questions or comments, obviously just put them in the
comments and I'll respond.
Related Posts: