With 200 hours played in My Time at Portia, I've compiled this guide of various Tips and Tricks about the game. Many of these are things I wish I had known from the beginning or ones I figured out through playing.
Introduction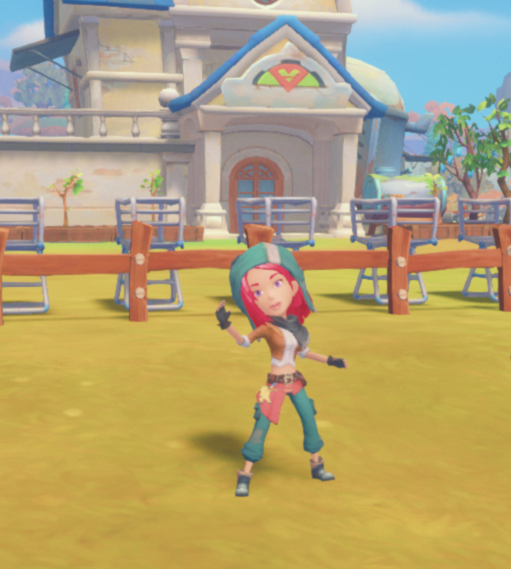 My Time at Portia is a really great game, but it can be confusing.
I'm currently at 200 hours played and there are many things I wish had known in the beginning!
These tips are mostly things I have learned through playing and others are ones I've found elsewhere.
Inventory Management
Your Backpack

You can increase your backpack size at any time by clicking on the row. The cost varies.
Sort All is your best friend. Clicking it will put all the items in your inventory into chests where that item already is. Ex.: Apple slices from your bag will stack up on the single apple slice in a chest, so all end up there.
When picking up items from the Delivery Box, they don't move to your inventory until the animation completes. Opening a chest will interrupt it and you get the rest lf the items once you close the window.
Loot stays on the ground if it does not fit in your bags.
Unless you need a ton of glass, sand is a pain. Just abandon it to keep more room in your inventory for ruin diving.
Chests


Name your chests based on contents! You can access all chests from any chest. It doesn't make a difference where the chest is located.
Click the down arrow to the right of the chest name at the top of the screen. I've got ore, bars, individual chests for each of the ruins, etc.
The left and right arrows allow you to cycle through your chests.
Placed Items
Machines will stack in your inventory and can be placed inside chests. The contents of the machine will go to your backpack.
Planter boxes empty if stored in your backpack and you lose all growth progress.
To move Flooring Tiles singly, hit them twice with an axe.
The Vacuum Cleaner will pick up all machines and tiles in the area into your backpack.
Missions & Commissions
Items
The exclamation point in your Worktable menu lists items you need for quests or what is being built at the Assembly Station.
Keep data discs in your inventory. It will save you trips to Petra and the Church!
Make lots of Magnifying Glasses. The Inspection mini game (Saturday and Sunday) can be extremely picky where you have to select the defect. You need the Glasses in your inventory to use them for the hint. You can farm the Lens in the ruins or from the from Pine♥♥♥♥♥.
Main Quests
If you don't complete a story quest or Higgins steals it, the quest will still complete, it may just take a while.
Some missions have objectives that say "Assemble and Install". If you have already made the item, the quest list only updates when the item is installed. Making multiples of the item (especially at the Assembly Station) can get very expensive very quick, so be careful!
Commission Board
You can have one Commerce Board mission and one Commerce Board Quest mission.
The earlier you go to the Commission Board, the better. Higgins can take the best Commissions.
Build extra Dee Dee stops. Once you complete the quests for them, other spots will open but there isn't a quest for them. I currently have 14 on the map and I have done the Knight fight.
Trading
Keep data discs in your inventory. It will save you trips to Petra and the Church!
Items come attached to mail. You have to select the Keep button to move them to your inventory.
Building & Building Upgrades
Assembly Station
The Auto Assembly Station does not require you to have the needed items in your inventory. You can also queue up more than one item at a time.
The Handbook has three tabs. The bottom tab is a quick list of all the machines. Selecting the Check button will take you directly to the page for that machine.
Upgrades
Upgrades at the Construction shop can only complete if you have the items in your inventory.
House
Every house upgrade takes up more space on the farm.
Expansions add rooms to the house.
Factory
You can queue up items and add materials to the Factory storage inside and outside the Factory.
The Factory storage is separate from chests.
You can change machines after they are placed in the Factory.
Resources and Material Creation
Tools
Upgrade your tools as soon as you can.
The Upgrade Kit is purchased from Total Tools.
Wood
You can chop down all but the fruit trees in the tree farm.
You can exchange wood / stone for the other at A&G Construction. There is a cash register in the back next to where Gust sits.
The thicker the tree trunk, the more resources the tree will drop. You will need an upgraded axe to get hardwood from those trees.
Birds Nests and Honeycombs contain items. Click to open them.
Hardwood can be broken into regular wood at the Worktable.
Poplar wood comes from creepy looking trees.
Ore
Stones around the exterior wall and inside the town contain gems and marble. Some trees in town can be cut down.
Make Carbon Steel constantly. You will reach a point where creating items becomes very lucrative and it's needed for practically all the high profit items. I always keep three basic furnaces going making charcoal.
Your calendar will alert you when your Ruins access expires. You will see the message"The entry qualification for the Abandoned Ruins is about to expire!"
Animal Skeletons
The Animal Skeleton is a rare drop. It is used for the Enhanced Sword upgrade. Even though they can drop from almost any animal,. Large groups of animals are Llamas behind your Workshop, Pine♥♥♥♥♥ in the Collapsed Wasteland, and Rats in the Hazardous Ruins
Once you reach the Eufaula Desert, they are laying on the ground.
Item Exchanges
The Clothing Store sells cloth items and pigments and Total Tools sells ore. There is a quantity limit per day, but it refreshes in the morning.
The Civil Corps will gather various items in exchange for gols. The cheapest cost requires the completion time to be the maximum amount.
At a few points, you will need a LOT of waterproof cloth for commissions. They require 10 fiber cloth each, so keep a skiver making it. You can purchase five per day at the Clothing Store.
Lootable Chests
There are chests all over the main map. Many are accessible from the beginning. Others may require a mount and / or creative jumping to reach.
Buying & Selling
Easy Money
Stone stools are a good way to make money early game. Keep a half stack or so of raw stone around in your inventory because you will need stone at weird times.
Fishing can be lucrative. You can buy worms from Sophie.
Raising and selling animals is very lucrative once you can grow wheat.
Merchants
Church items have a limited quantity but they refresh every day. I have multiple grow spots, so it took a few days to get all the Irrigation Towers I needed.
Stores have a limited amount of gols each day and specific items can only be sold to specific merchants.
Unless you build multiple blenders, making fertilizer can get tedious. Sophie sells it.
Don't go crazy making strengthened glass to sell. You will eventually need it for a couple quests.
When making items to sell, wait until you have large quantities. Market prices fluctuate and you can check them at the stores. When they are high, sell your huge batch of items.
Some merchants take scavenged parts only, the Mysterious Man takes parts and gold.
Apples make great stamina food, so get drying racks and apple trees going as soon as you can. They will also drop in the Ruins Dungeons.
Ruin Diving & Dungeons
Equipment
The Relic Detector can be upgraded after certain missions. Purchase these as soon as you can.
Items
Stamina food is a necessity for long trips. Dried Apples are easy to grow and can be made on the Drying Rack.
An empty backpack is essential.
Assembling relics with the Recovery Machine in your Workshop is not instantaneous.
Glass isn't worth the inventory space, but Stone can be turned into Stone Stools for experience and gols.
Enter and Exit
You can use the map to return to the entrance of the Ruins.No need to dig / fly your way out.
You can exit dungeons by returning to the entrance of the room you are in.
When you run a Ruin Dungeon, you will not fall asleep while inside it if the clock is at or past 3 a.m. The time spent in the Dungeon is static, no matter how long you take to finish.
Stats & Skills
Skill Trees
You can change your skill trees by visiting Phyllis at the Clinic. The cost increases each time. If you want to focus on relationship building, dump your points in the Social tree, for example.
The Sprint gauge also applies to mounts. They cannot jump if it is empty.
You can beat much higher level combatants by rolling away so you don't get hit.
There are skills to boost the training of mounts, but they are at the bottom of the Gather skill tree.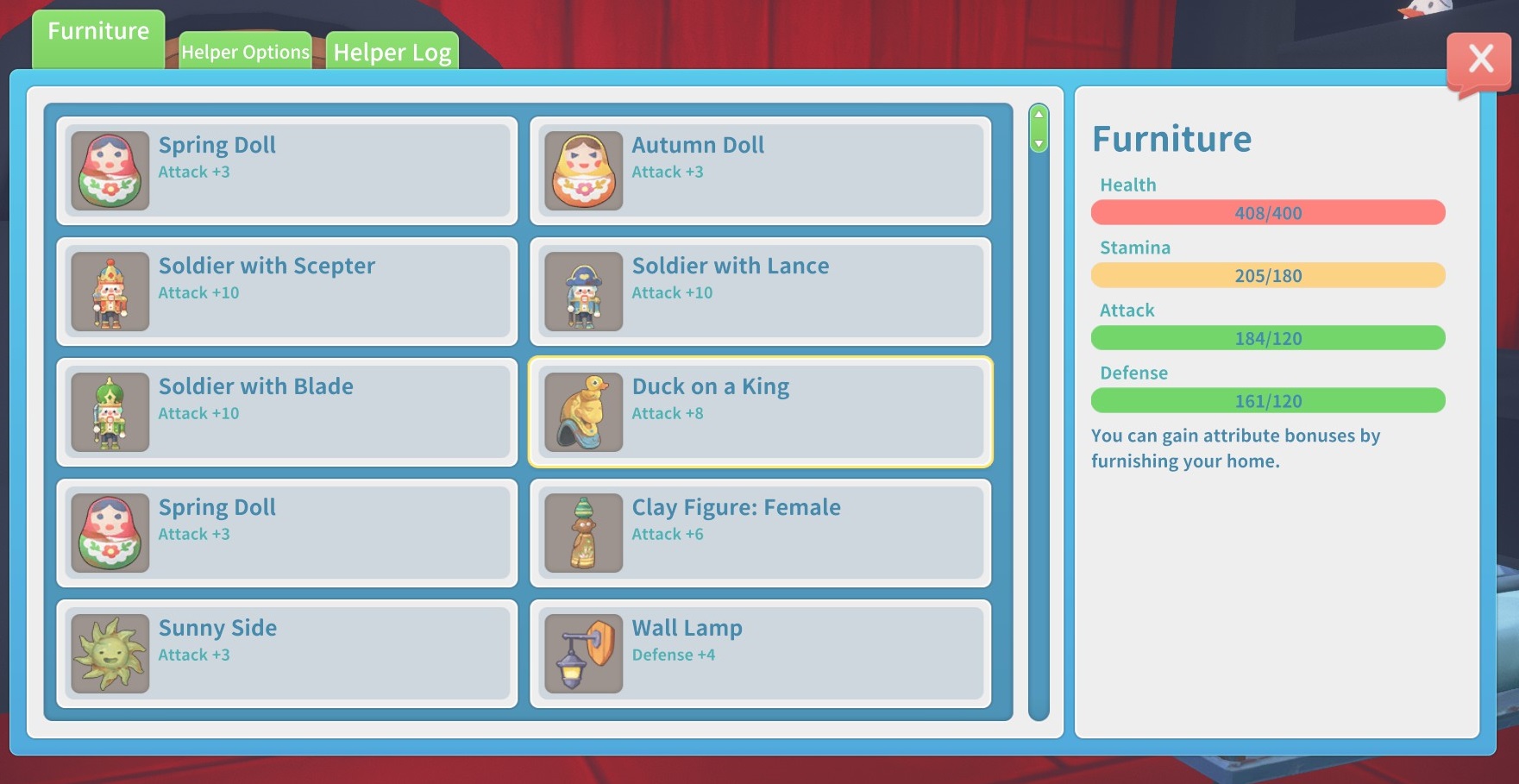 Increasing Stats
The Home Panel allows you to increase your stats. Each house size has an allowable amount.
The Attack stat is common on Relics.
Best Brother sells the Mini-Bar which adds +7 to Defense.
You receive stat increasing food from events and sometimes quests. Check it before you just stick it in your chest.
There is no penalty to your stamina if you fall asleep outside the house at 3 a.m.
Relationships
Increasing Reputation
Commissions give reputation points. If you're focusing on someone in particular, they are a great way to build rep. The Civil Corp usually have at least 1 mission on the board every day.
Raising reputation with characters who have a family will raise reputation with the entire family.
Raising reputation with characters can raise reputation with their close friends, such as Albert and Gust or Mei and Erwa
Dates
You can begin dates early by heading to the location of the date.
You can end dates early.
The Seesaw and Doodle are easy ways to increase date happiness.
Special events will automatically cancel dates if they occur on the same day.
When ordering dinner at The Round Table, your date will tell you what they want when you start the order.
Marriage
If you want to marry Ginger, she is usually only out at nighttime with Gust. Otherwise she is in the Mayor's house.
Marriage candidates have hearts in the social window.
Clothing
Clothing Shop
Carolyn will let you put the stats from one piece of clothing onto another, so you can wear your favorite outfit without taking a hit to your stats.
Once you unlock a particular piece of clothing by looting it, Carolyn will offer it in her shop.
Mysterious Man
The Mysterious Man sells clothing that comes from quests. It can be purchased before completing the quest.
Helpers & Ack
Helpers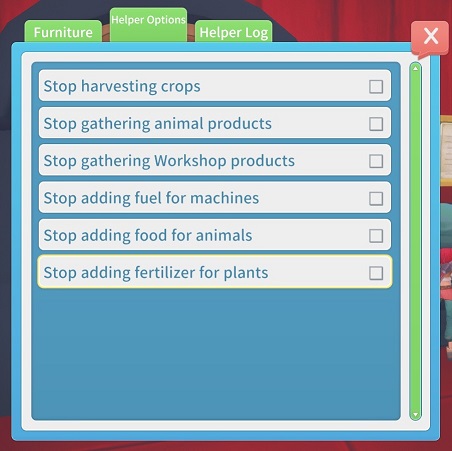 The Home Panel allows you to change what your Helpers are allowed to do. It also has a log that tracks their behavior.
Ack
To use Ack as a helper, you will need data chips to give him the ability to do things. These drop in all of the ruins and some diligent diving will get them fairly quickly. You can sell extras.
Ack can cook dishes that many characters wish for, including some that require multiple steps, like Fruit Salad. You don't need the items in your inventory for him to cook them.
Ack has his own inventory for gardening, he does not use the Helper Chest to get seeds. You have to add them manually and you have options on how you want him to replant.
You can place Lara anywhere on your farm. Ack will find her regardless.
Cooking
Recipes
Django sells recipes. Sometimes you can buy a single one that has the name, otherwise you get a choice of three with a specific ingredient. It is helpful early game, but he will sell you recipes you may already have.
Drying racks are not made at the Assembly Station, they are furniture. These allow you to make various dried items. Apples and Apricots restore Stamina.
Cooking Pot
Using the cooking pot is not like other stations. You need the item in your hands to place it. If you place too many of an ingredient, it will ruin the recipe. Make sure you have ONLY the quantity of the item you need on your hotbar. You cannot make more than one recipe at a time,
Fishing
Breeding
You can breed Emperor fish by using two in the Fish Display.
You can only get Bug Eggs from Mr. Ladybugs. You can make Flour or buy it at the Ranch.
Be careful when using the Fish Displays. If you accidentally take one out, it resets the timer on breeding.
Other Tips
When you defeat the Rogue Knight, he drops his sword on the ground. It is easy to miss.
The Mysterious Man comes on the 27th and only stays until Day 1 of the next season.
The calendar lets you set notes. These will alert you on the day that you set them. I use one for the Mysterious Man to remind me on the days he is there.
The button in the lower left of the map lets you select what is shown on the map, such as stores and fishing spots.
The paint brush and paint roller have infinite use. There's no need to buy multiples.
You can run up and down the conveyor belt to the mine.
To take photos with another person, you have to select it through their menu.
The Darts minigame is the most efficient way to get badges. The rewards are desired by a lot of the citizens and they give a huge boost to reputation.
This was written by
Vyxxi
Related Posts: