One Hour One Life by Jason Rohrer is a multiplayer civilisation and parenting survival game, where a generation will start off with Eve. It's Eve's job to lay the foundations for future generations which will hopefully become more and more technologically advanced with each generation.
This guide explains what you need to do to start your first Eve camp, or what you should do if you are born to an early camp. Once you have found your perfect spot, this is the rough order of things you need to make as an Eve or as the child of an Eve. If you see someone is working on one of the steps, you can move on to the next step to gather the items needed, or help gather food for them as they work on these things.
Bring home all the things
Make a home marker. If there is an existing one, cut it with a sharp stone and then hit with round stone to set your home. If no home marker exists, find a sapling in the grassland and cut it with a sharp stone. Now it's time to bring home all the things.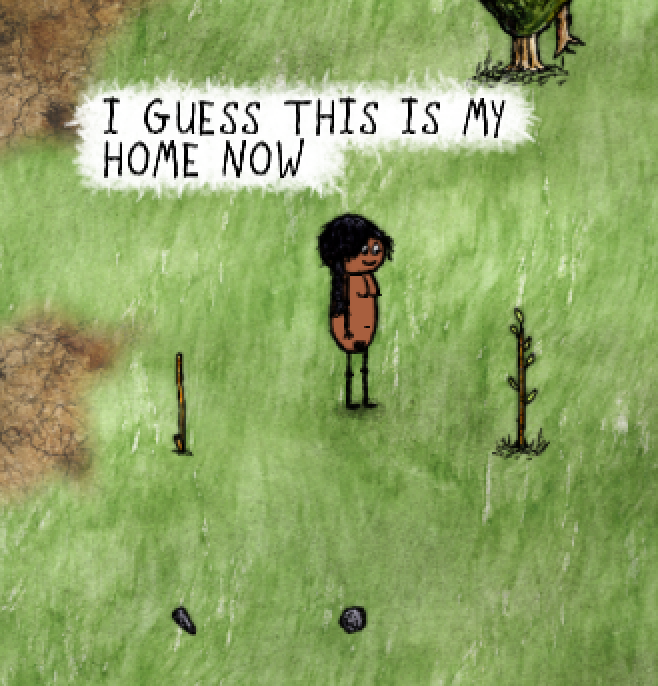 Swamp biome
Make a Sharp Stone and Basket to gather food.
Gather 4 adobe, 7 or more clay, a round stone
Make the Adobe Kiln, 1 Clay Nozzle, at least 4 bowls and 3 plates.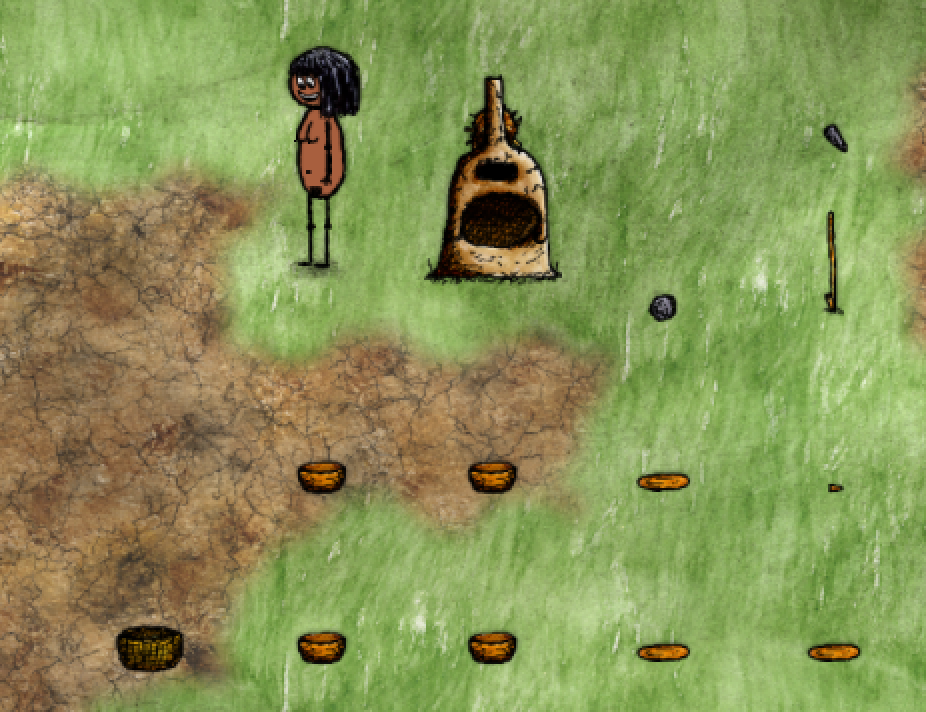 Grassland biome
Gather 3 ropes, 3 straight branches, one small curved branch
Use those to make a Fire Bow Drill, Stone Hatchet and Snare.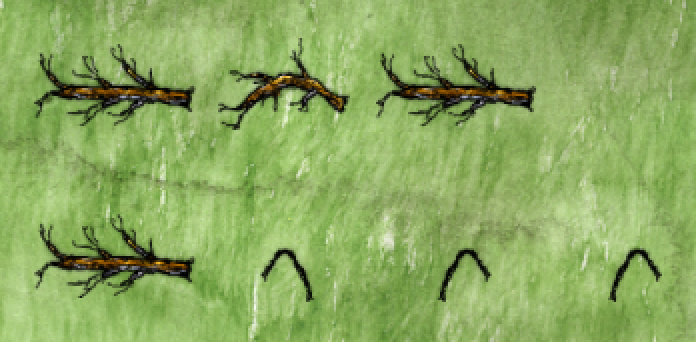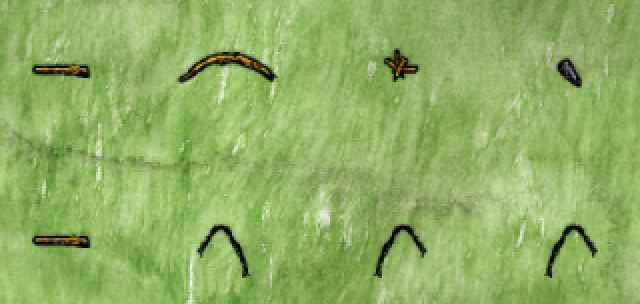 Gather a large quantity of branches from all the trees. You can stack small curved branches together to carry two at a time, or make a pump beam kit to carry four.

Make two Wooden Tongs, and at least one full pile of kindling near the forge. Save long straight shafts for tools.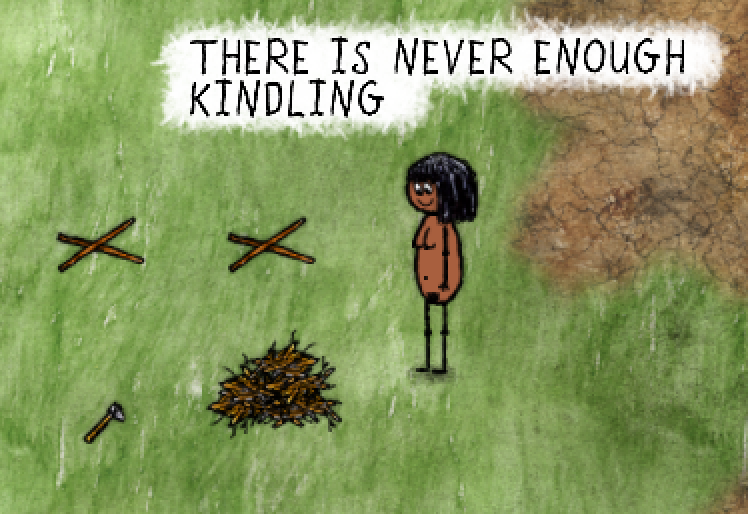 Gather 1 thread for sewing an empty water pouch later.
Prairie biome
Snare one rabbit, bring back 1 flint chip.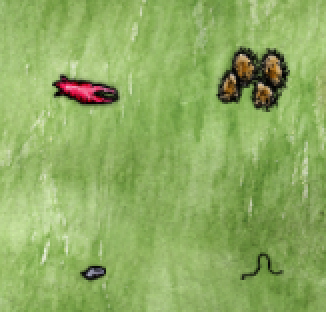 Now you are ready to start your first fire. With this first fire, light the kiln and fire all the clay items, then cover the kiln with adobe to make charcoal.
Let the fire go out and cook the rabbit on the coals. Use the rabbit bones to get some needles, then make an empty water pouch with the rabbit fur. Make the bellows.
A good spot should have ponds nearby, so if eggs have been gathered, you can now make a hot flat rock to cook omelettes on with this same fire. Every time you cook a new egg on the hot flat rock you reset the two minute timer, so you can keep cooking eggs on it for a long time if you time it well.
If you can't cook eggs, it is better to let the fire go out until you are ready to make the iron tools, so as not to waste the kindling. Never make a large fast fire.
Now that you have clay bowls, you can also start farming now with skewers or a stone hoe. If iron tools look like they are ready to be started soon, there's no need to waste a milkweed to make a stone hoe as a steel hoe is much better. Gathering skewers for an early farm allows you to skip the stone hoe and go straight to steel. If milkweed is scarce, this is the preferred method.
Early steel tools
Even if you don't know how to smith yet, you can help with these items :-
Gather iron ore from the badlands.
Gather three flat rocks for the forge.
Prepare one short shaft and a round stone near the forge.
Prepare three bowls and three plates by the forge, put charcoal into each bowl.
Make sure there is plenty of kindling nearby.
Smith the tools in this order :-
Smithing hammer
Axe – the axe allows you to immediately cut some firewood to make a large slow fire.
Shovel or Hoe. Depending on the needs of the camp. A hoe allows you to start the farm, but a shovel helps to clear the area of stumps, empty pits, tule stumps. Dug tree stumps will give you kindling, dug tule stumps will give you adobe for a second kiln and your oven. The shovel also allows you to make wells.
Farm time
Now you have the basic steel tools, you can start farming properly. Check to see what farm crops exist, and if the town doesn't have it, you can go out and bring back wild seeds to plant. When there are no sheep yet, you are relying on wild soil, so depending on how far it is and how much you have, you should limit the size of the farm until compost is running.
Another useful thing to do is to gather round stones near ponds to make wells, and near the farm to make cisterns eventually.
Sheep/Compost Crops
Berries – do not create an endless expanse of berry bushes. Leave spaces for people to put bowls, buckets, and soil nearby.
Carrots
Wheat
Stew Crops
The final crop to consider is milkweed. I prefer not to farm milkweed before sheep are done, as soil is still limited. If there is enough wild milkweed around, there is no need to farm milkweed and you should focus on the next steps first.
What should I do next?
Once all of the above have been finished and the farm is running smoothly, the next steps are to finish the rest of the steel tools and get a sheep pen running. Both of these require a bow and arrow, so if that hasn't been made, gathering materials for that is very helpful. Gather 1 rope, 1 thread, 1 yew branch, 1 skewer, 1 goose feather and 1 flint chip to make a bow and arrow.
All the other steel tools
If there is no more iron ore, you should gather some for the rest of the tools. To finish the full set you need an additional 9 iron ore (not counting the 4 used above), and that's assuming the first tools haven't broken already. Unless there is a snake terrorising your camp, or the sheep have already been finished you should make them in this order:
1. Chisel
2. Steel file (requires a cooked goose)
3. Froe
4. Adze
5. Bowsaw
6. Pickaxe
With these six tools you can now make buckets, carts, stone blocks, and most importantly mine an iron vein for even more iron.
The last two important tools are the knife and shears, which allow you to manage sheep, bake bread and eat turkeys.
Sheep pen
If there are no sheep, the town still has no renewable source of soil. Most early game pens are made from either adobe oven bases or stone blocks, depending on what is more readily available around the camp.
To get the first sheep, you must find a mouflon with lamb in the badlands and shoot it with an arrow. Using a rope you can now bring the lamb home and release it into the finished sheep pen. Feeding the lamb with a bowl of gooseberries and carrot will turn the lamb into a mouflon, and the mouflon will produce lambs that will grow into domestic sheep when fed with a bowl of gooseberries and carrot