I love the effort that Pixel Titans put into their marketing campaign. The design is spot on, and the humor is befitting of that decade. The tutorial is something not to be missed. From the VHS appearance of the video, complete with boom mic popping into the shot, to the (even more) retro appearance of the game itself while you go through its purposely-banal paces. Even the extras menu show the love that PT feels for the subject matter, emulating a DOS prompt that executes programs to play other variations.
I just wish they had put the same amount of effort into making the game fun.
PT decided to go with a Quake 1 & 2 inspired level and character design, from the plain textured walls to the plasticine-looking monsters. The thing is, those first two games were just not that fun. Seminal? Yes! They brought the first person shooter out of the flat 2D sprites of Doom, into the 3D modeled world of today. Were they fun to play? Not at all. Quake didn't really come into its own until the third installment, and stranger yet, Raven and Valve were the ones to create real gameplay out of its engine. The Soldier of Fortune series, and of course Half-Life, contained the meaty gameplay that the first two Quake games needed.

One could argue that this was the intention, that they successfully created the very gameplay from that generation that they wanted to. I will be the first to admit that it plays much better than Quake 1 & 2, occasionally even 3, but it's just not good enough to carry the whole game.
Strafe is all about the gunplay, and it's only slightly above par. You start with one of three weapons, finding more along the way. There is even an upgrade station you can come across that will boost stats or change the projectile type. While the weapons have some heft and weight, they feel only better-than-mediocre. They are not the (mostly) impotent peashooters of the Quake series, but they're not the smile-inducing glee of a double-barrel shotgun either – and they need to be.
The enemies die much more viscerally than they do in the Quake games. Giblets come loose and blood sprays everywhere, but it mimics the same cardboard physics that the Quake engine did. What we needed here was some pop in that department. If a point-blank blast of a shotgun sent a monster sailing across the room or blew him into chunks, you'd have something. Instead, you get a bit of comical arterial spray while the monster shrugs it off and keeps coming. There is hit detection, and targeting body parts will have the intended effect including a head shot, but it just isn't satisfying enough.
Another area Strafe has problems in is the AI. With the levels being procedural, you need some well-written algorithms. For the most part, it's smart enough to navigate the changing design, but that's about it. Monsters run directly at you in waves, trying to overwhelm instead of outsmart you. There were more than a few occasions where I watched a hoard get stuck in a corner because I was standing one level up from them. It's purposely unfair too, spawning directly behind you after an event has been triggered for some cheap shots at your health bar.
Strafe uses the old school health system, meaning no regeneration, however health packs don't drop from killing monsters. Instead, you regain health through a food dispenser that may or may not appear on the level somewhere. To add even more difficulty, the dispenser has a random and limited amount of food available. The saving grace here is that you don't have a cap on your health, so you can eat to your heart's content without having to worry about remembering where the dispenser is.
Ammo and armor can be crafted from the scrap that you get from killing monsters and opening chests. A converter is available somewhere on each level that lets you purchase both in small or large amounts. The ammo is only for your primary weapon though, other weapons you pick up become one-shot melee weapons once empty. The converter will also let you revert your main weapon to it's original firing mode if an upgrade you applied is undesirable.

Credits can also be gained the same way, and can only be used in the shop which appears in selected levels. This is where you'll find the best way to survive Strafe, and the only spot where you can take a breather. Inside you'll find four random items for sale, and depending on your luck, one of these will get you through to the next opportunity. A note of warning though, don't shoot the proprietor or that wall of droids behind you will end your run quickly.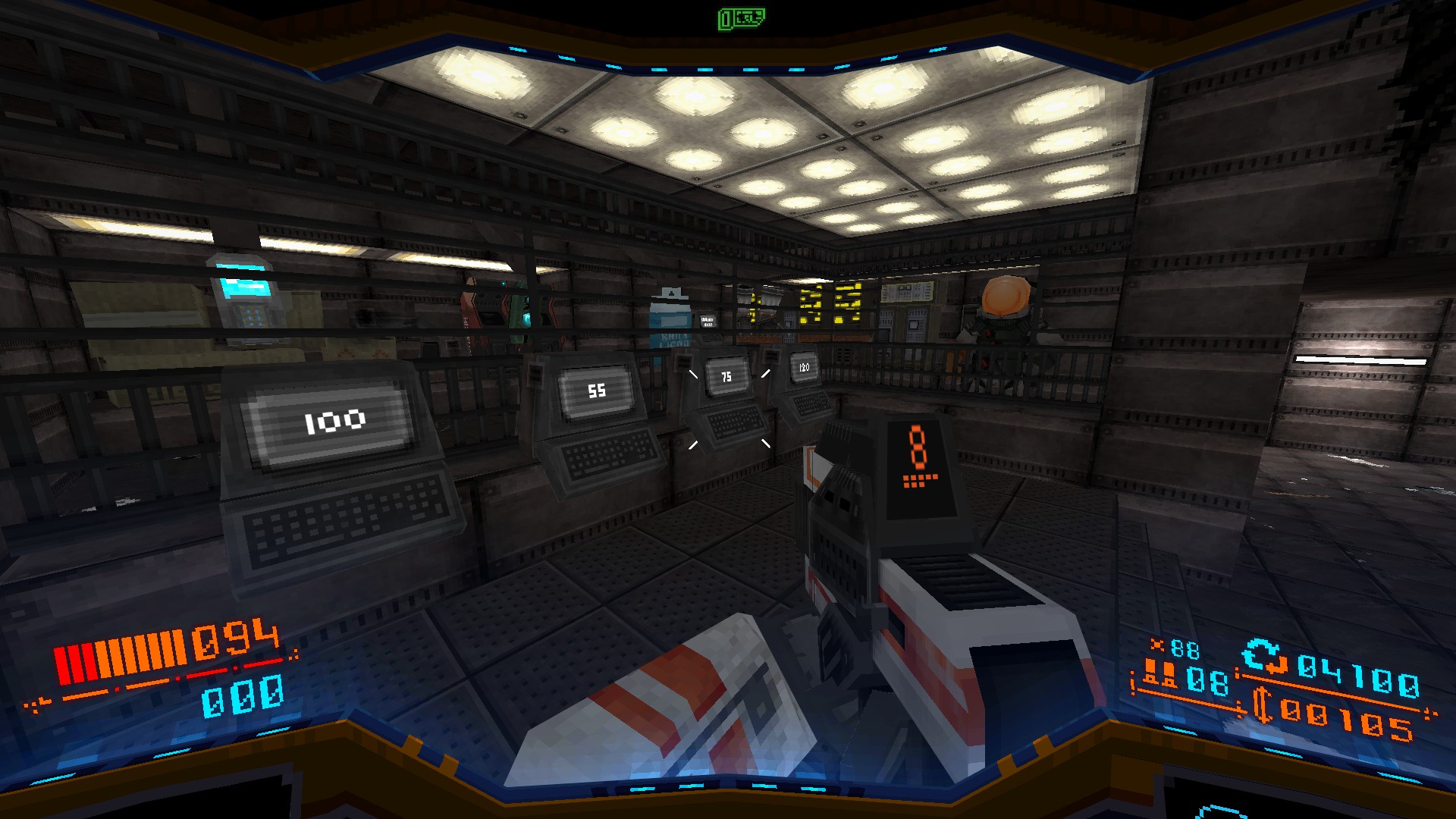 There is also a wandering merchant who will give you either health or a powerup, it's just almost impossible not to kill him amidst the bedlam. Most, I suspect, won't even notice him.
The levels Strafe contains are semi-procedurally generated: Handcrafted rooms are placed in a random order to change things up. It helps, but very shortly the repetition wears through the thin veil of variation it creates. The game is broken down into biomes of multiple levels. If you can stick with it, the theme changes beyond brown and boring, but you'll spend far too long looking at the same old artwork. Strafe's generation system can also build muddled and hard-to-navigate designs. There is a map feature, but its adherence to old-school design make it almost useless.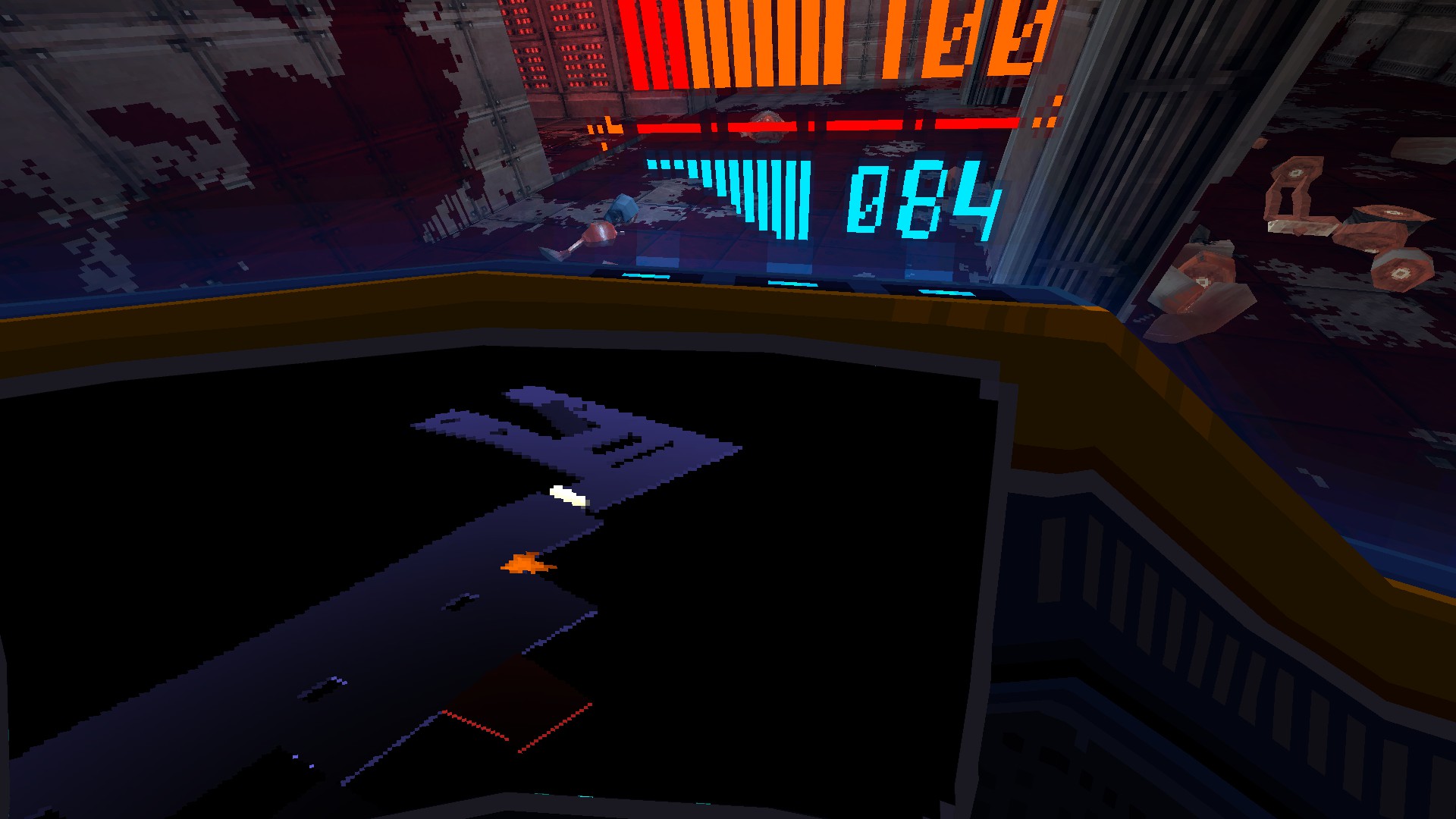 These early levels are where you'll spend most of your time with Strafe, failing over and over again while you learn its secrets. You can save your game at the end of each level via a terminal and chamber, but that's just for quitting the game to continue later. There is also a teleporter in the second biome that you can repair with the pieces you find in the levels. Other than the one in the shop, they are stupid hard to find. If you succeed, you can then start each new game at the teleporter instead (albeit with only the starting weapons).
This is the biggest hurdle in Strafe. Most will just get frustrated and stop playing before they get beyond those opening levels. There is more here, really: There are secrets, hidden rooms, 30 weapons, and over 20 different enemies including an ending boss fight – but what does that matter if no one stays long enough to see them? There is an easy mode, but it barely makes a difference. Most of what kills you is cheap monster spawns coupled with claustrophobic level design.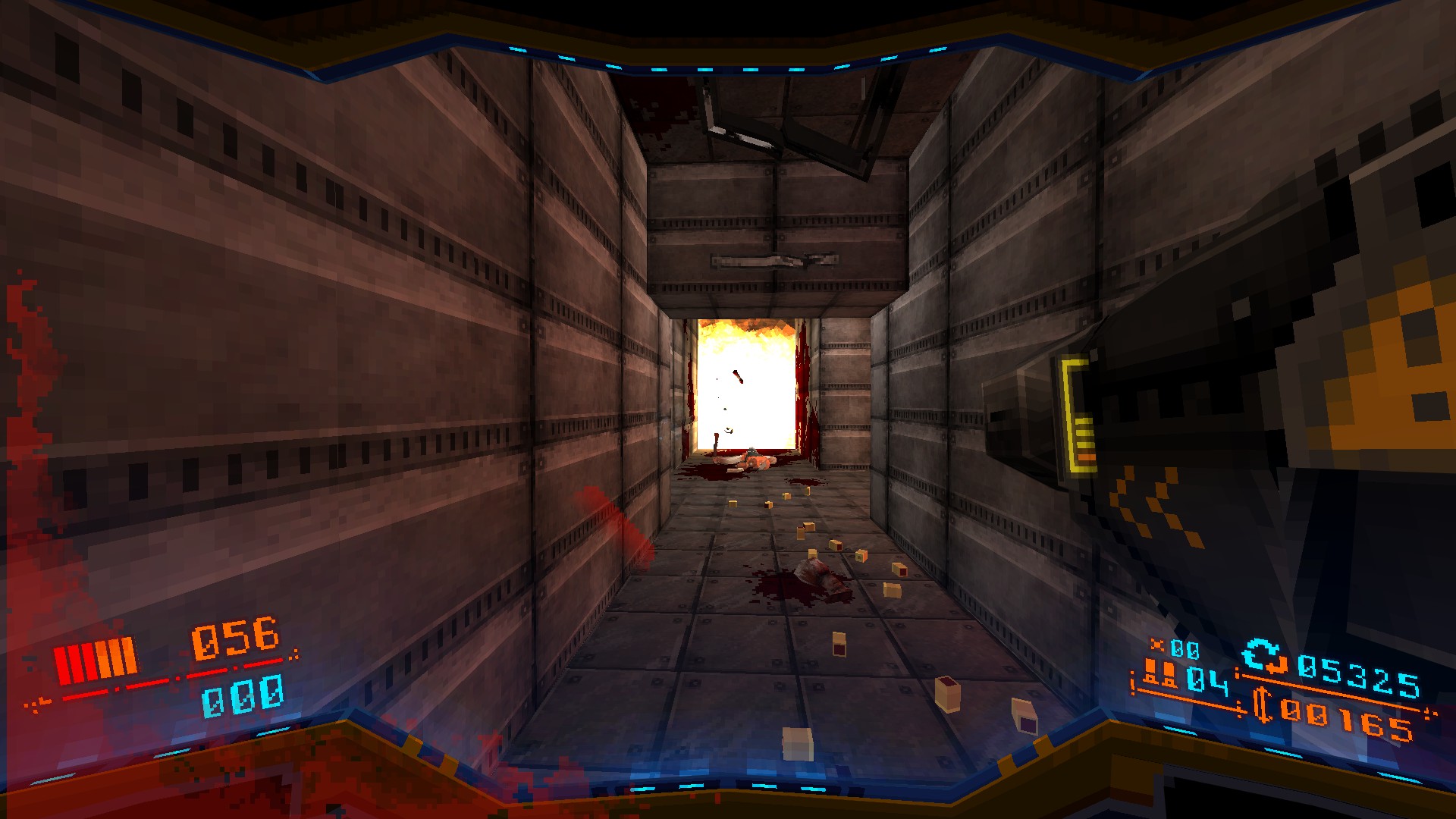 Rogue-likes are supposed to be hard – I get it. You are meant to die a lot, but there also has to be random elements that can make a good run possible. Strafe's level design and unfair monster spawning don't allow for this – you get good, or get gone. Unfortunately, the fun wears off before many will break through and see the better parts of the game.
The game that Strafe should have mimicked most is actually a mod – Brutal Doom. The over-the-top gore, guts, and visceral gunplay that the creator built within manage to make an old and tired game so much fun to play that you don't care what the levels look like. This is where Strafe needs to be. All you have is gameplay – there is no story, there is no wow to the levels. If Pixel Titans could manage to fit that into a GOTY edition, or add a "Brutal Mode", then you would really have something to go with all that fantastic marketing.