Guide aimed toward players who have finished the game and are also struggling to get overcharge to max their amps, buy weapons, etc.
Introduction
First off, this guide is intended to help those who have finished the game and are possibly looking for a quicker way to gain overcharge. If you are a new player, I definitely recommend finishing the game first and playing it like normal because it is an epic game! With that said, there will be some slight spoilers ahead.
Context
If you want to see the method I am about to explain you can skip my rabbling to the next part. If you're like me and you're trying to max out all the weapons and amps, it can be very difficult late in the game since it's hard to get a considerable amount of overcharge in a short period.(Especially if you've already completed all the side missions!). I can barely get a few thousand overcharge in an hour of playtime depending on how active I am in hunting down OD. So, out of impatience and my desire to make a guide I'll explain one simple way to make overcharge quicker!
"A Hero's Duty"
To do this method, you're going to want to replay the story mission "A Hero's Duty". (This is toward the end of the game which is why I warned about spoilers). There's one part in particular in this level that makes getting overcharge easier than grinding all over the city. Firstly, grind over to the scouts where 4Kim is located and help them fend off the Fizzco Bots.
Side Note: I'm not entirely certain, but enemies in this level also just tend to drop more overcharge on average compared to fighting enemies while not on this mission.
After helping the scouts you're going to be prompted to go help Sam and the college students. Start making your way down the street toward the mission objective. (Along the way there will be more enemies that you can choose to avoid or kill that will simply just give you more overcharge).
Continue down the main street as seen below:
Farming Section
Upon following the road you will notice the train tracks that lead to a small red bridge. On this bridge are both Fizzco Bots and OD that continue to spawn.
This is the part of the mission that you want to take advantage of and continue to go back and forth along the bridge to farm the enemies.
This is a great spot to farm enemies because they are all within close proximity and drop a lot of overcharge. However, I will mention that the enemies will eventually stop spawing on the bridge (at least in my testing), so you can't farm this spot forever!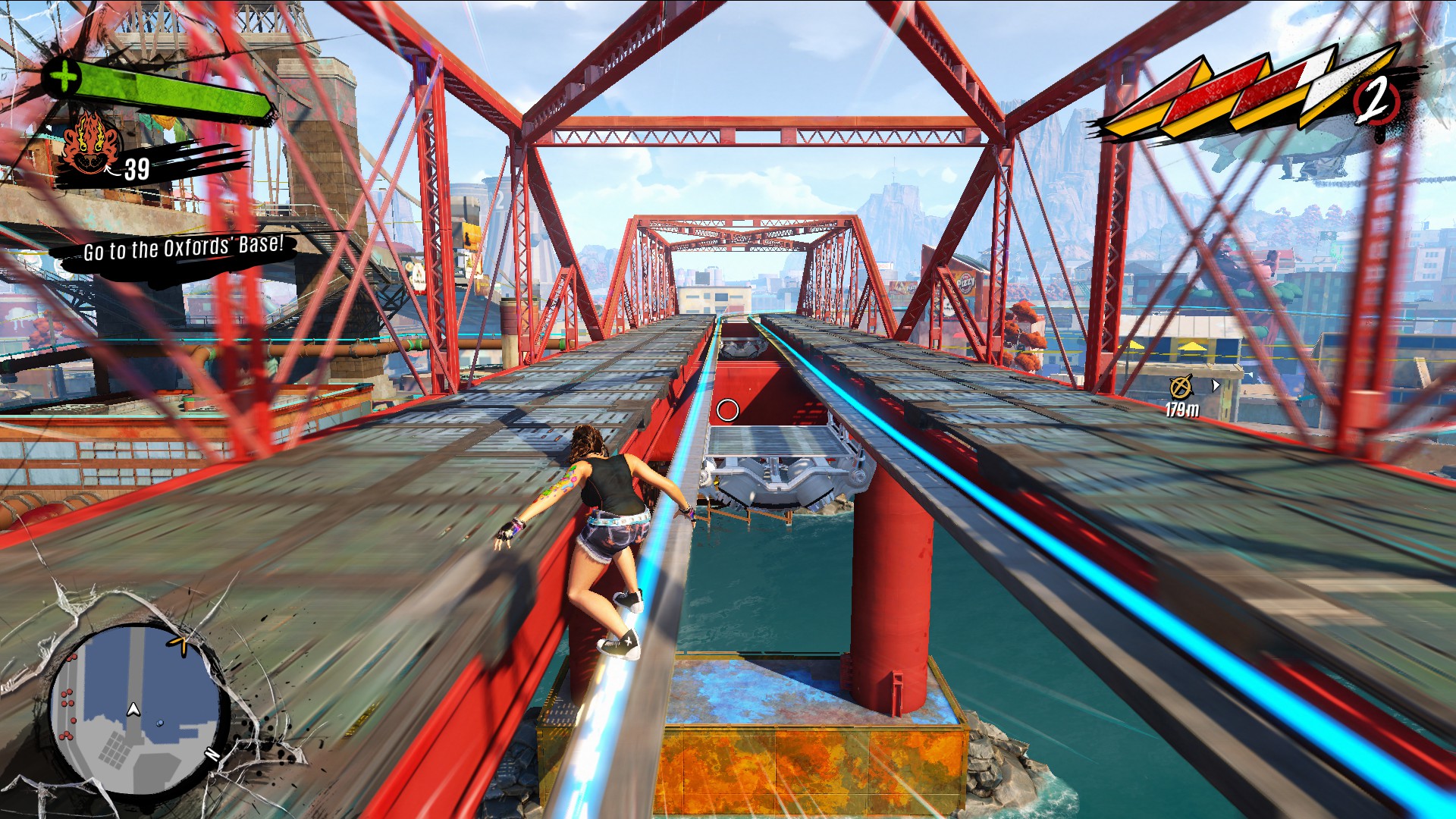 By doing this method you can easily get within 1,000-1,500 overcharge in under 10 minutes by simply repeating the beginning part of this mission. You can choose to play through the whole level because there are more enemies to fight at the Oxford's base, but I would suggest "abandoning" the mission. Even if you leave the mission, you still get to keep whatever cash and overcharge you collected.
Conclusion
To some people this might not be the best/fun way to farm overcharge, but it is a grind no matter what method you're trying to use. It's very easy to farm a lot of enemies on this level regardless because they spawn all throughout the mission objectives. I'm sure a lot of people have already known about this method, but I just wanted to mention it in a guide for anyone to see.
This is how I discovered this method, so please show this video some love!
Perhaps you guys know of better ways to farm overcharge, and I would love to hear about them in the comments. Maybe I will update this guide if new solutions are presented. Anyway, I love that they ported this game over for us PC players and I hope this guide will help some of you! Any feedback, recommendations, criticism, etc. is welcome!
This was written by Obi-Juan