Supreme Commander is A really fun strategy game held back by being designed for console. It has Total Annihilation vibes but on a smaller battlefield.
Introduction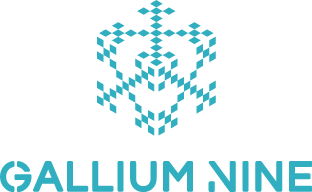 This game doesn't work with Proton as is, because its compatibility with DirectX 9 is not perfect, and this game is sadly not compatible with Proton DX9 -> OpenGL translator.
However, those of us with AMD graphic cards can use Gallium Nine instead of a translator – essentially it is an implementation of DX9 rather than translation. This implementation works perfectly with this game. Proton versions shipped by Valve don't have Gallium Nine built in, but you can fix it by installing a custom Proton version. On a plus side, Nine has much better performance, and in some cases it works even better than on Windows.
Making sure your system is running proper software
In order to use Gallium both your Mesa3D and Proton have to support it. Unless your distribution disables Gallium on package build it should come with any Mesa >= 10.4
You also must have DRI3 enabled and be on open source drivers, not on AMDGPU-Pro.
If you aren't sure or you have issues refer to the ixit website
[wiki.ixit.cz]
Download and install Proton with Gallium Extras
Go to the popsUlfr/Proton
[github.com]
and get the latest release available, you need the
.tar.xz
archive. Save it to
~/Downloads

You can follow the instructions there, but here they are for convenience
In your terminal do the following:
mkdir -p ~/.steam/root/compatibilitytools.d
cd ~/Downloads #Or the folder you've downloaded the archive to
tar xf Proton_3.16-6_Gallium_Nine_Extras_0.3.0.tar.xz -C ~/.steam/root/compatibilitytools.d
Replace the file with a newer one if needed, you can start typing Proton and press TAB for convenience
Now go into Steam settings and check that Steam Play is enabled for all titles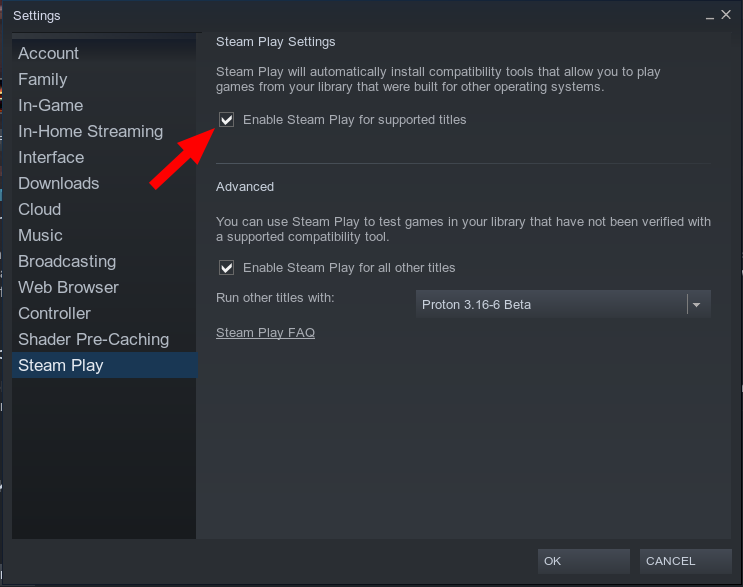 Restart Steam to finish the installation
Setting up Supreme Commander to use Gallium Nine
Now you have to tell Proton to use Gallium Nine with this game. You also have to disable esync and (optionally) disable GLSL to reduce stutter.
Click on the game and open it's properties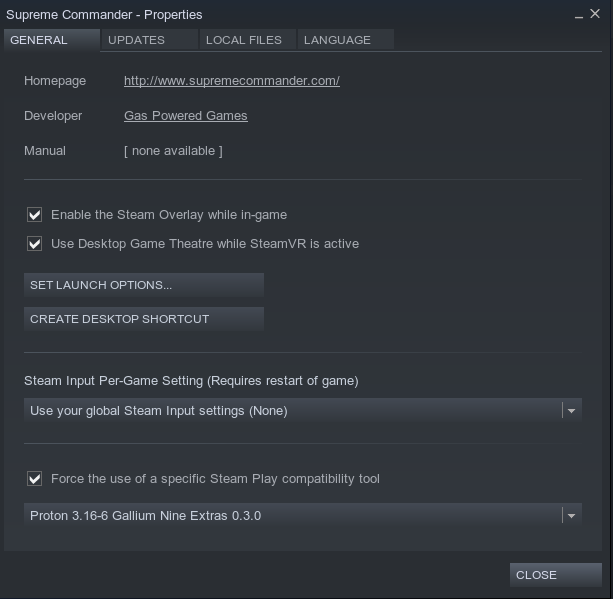 Check the "Force the use of a specific Steam Play compatibility tool" box and select the one with Gallium Nine Extras.
Click on "SET LAUNCH OPTIONS"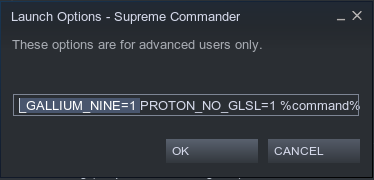 Paste this line:
PROTON_NO_ESYNC=1 PROTON_USE_GALLIUM_NINE=1 PROTON_NO_GLSL=1 %command%
Now the game should run as if it was native. If you have troubles try reading the documentation of this patched Proton and Gallium 3D, but on most modern distros this should not be a problem
This was written by NeoTheFox