This is a spoiler-free* introduction to the basic mechanics of the game meant to make starting out in The Void a bit easier. If you haven't played the game or have barely played the game and are having trouble getting started, this is probably aimed at you. Having seen quite a few other people play this game, I noticed a few things things that people tend to struggle with early on. This set of info/tips should hopefully clear up the main areas of early-game confusion — and this way you can get the hang of the game without having to restart from scratch five times after working yourself into an unwinnable corner.
The first part of the guide is basically a recap of the in-game tutorial with a few modifications. If you feel you've understood and remember it well enough, you can pretty much just skip or skim through that part. The other sections deal with planting colour and interacting with the Sisters, which will be your main ways of surviving and making progress in the game.
* The last real section of the guide is technically mildly spoilery as it covers the stat system in The Void, which is something that's explained later on in the game. The game is very difficult however, so I've included it (covered in spoiler tags) for anyone who wants to get that little bit of an edge and make their Void-life easier by using the system early.
UI, Terminology, and Basic Mechanics
Obscuras
"Obscuras" are what the game calls the special screens in which you interact with Sisters, trees, and your own body. The latter is arguably the most important one and is opened by pressing B (more on what you do in it in the next subsection).
For trees and Sisters, you need to draw a drop of colour on them to access their obscura. The shape you draw does not matter as long as it touches the tree or Sister. You also generally should NOT use more than a drop – the in-game demonstration for this uses a lot of colour, but that is completely unnecessary and a good way to waste colour.
An important thing regarding tree obscuras is that you are not invulnerable while inside. If there are predators in the chamber, you can be attacked while interacting with the tree.

Soul Obscura
The main point here is that colour essentially exists in three forms.
The containers on the right are your Lympha.
This is where the colour you collect from the world goes. You can put this colour in your hearts (your body) to convert into nerva and for a few other purposes.
Each container has a limited capacity and can overflow. Their capacity increases with the amount of hearts you have.
In the middle you've got your body with all your hearts. The colour you put in your hearts has multiple uses.
Firstly, it is essentially your HP – this is the colour that is drained when you take damage. The bar in the bottom left corner shows the total amount of colour inside you (and therefore your total HP).
Secondly, when you're on the map, your hearts convert the Lympha inside them into Nerva as time passes. Because this is also your HP, this essentially means that you are constantly gradually dying when you're on the map (but the game warns you when you have 20 or so in-game seconds worth of colour left, so you don't need to worry too much). The default rate is 1 drop of colour per in-game second.
All hearts process colour simultaneously. If you have filled more than one heart, you will be converting greater amounts of Lympha in the same time. It is NOT a good idea to use multiple hearts if you are short on Lympha – you will only run out of it faster.
The containers on the left are your Nerva.
This is your usable colour. All interactions are done with Nerva, whether that's donating to trees or Sisters, combat, or any other kind of glyphs.
This essentially means that any Lympha you collect first needs to be processed through your hearts on the map before you can use it.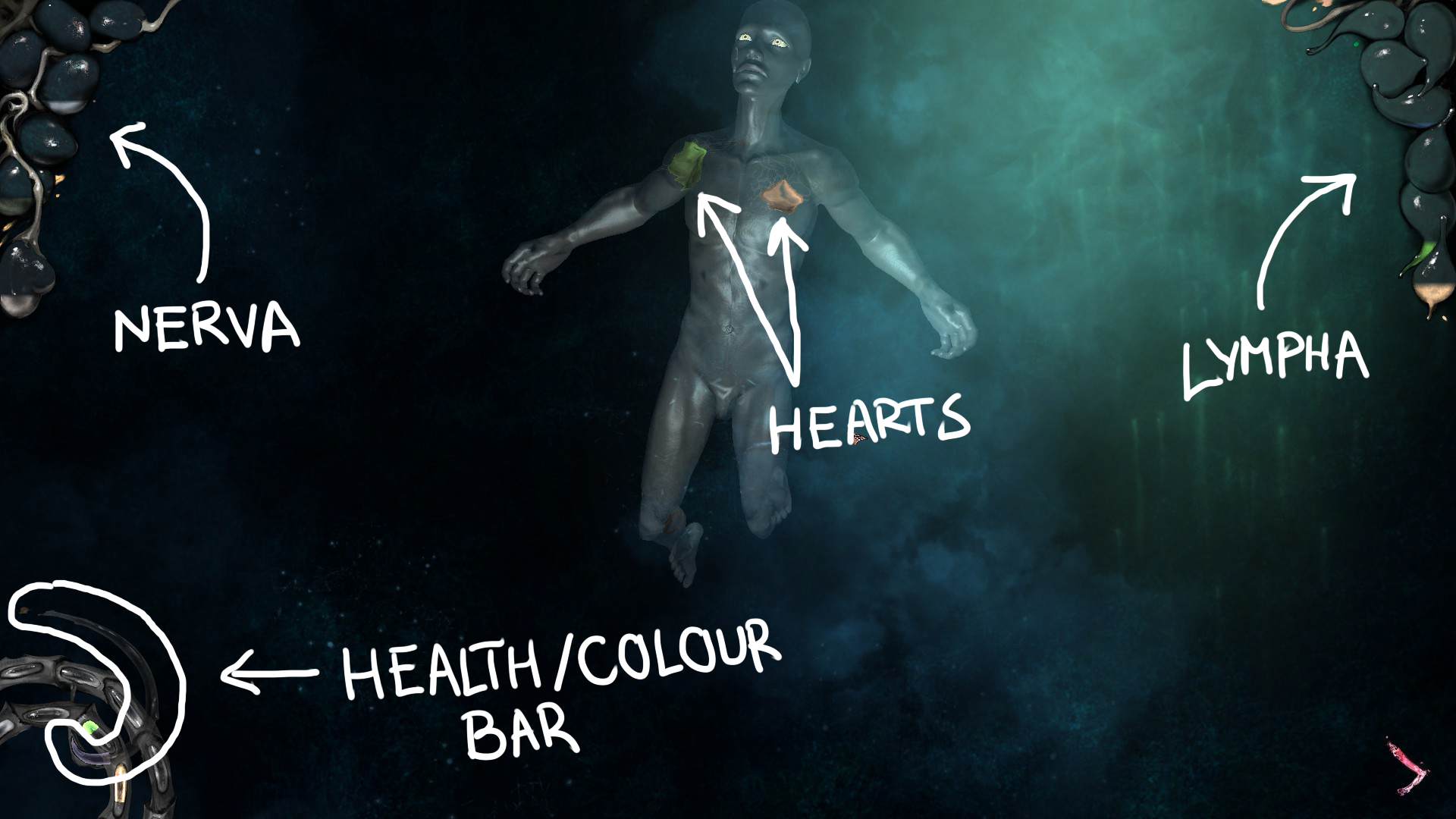 The Map
The Void is a network of interconnected "chambers" that are represented on the map as nodes. If a node is red, that means you have not opened the area yet (more on how you unlock new areas in the section on Sisters). These chambers are divided into a set of realms, each belonging to a specific Sister. Each realm consists of a large hub node that connects to other large hub nodes (this is the main chamber where the Sister lives) and a group of smaller dead-end chambers attached to it.
The smaller chambers come in four types:
Gardens. These contain large trees that you can plant in.
Reservations. These contain predators, small trees for planting, and sometimes small creatures that you can gather colour from.
Mines. You cannot do much in these chambers early in the game, but they are another source of colour.
Brother chambers. These are yellow nodes on the map where Brothers live and can occasionally be interacted with.
You can mouse over chambers on the map to see a tooltip that tells you the name of the chamber, the type of chamber in parentheses, and the types and very rough amounts of the colour currently in that chamber.
You travel the map by drawing lines of colour along the links between the different nodes.
Your movement speed depends largely on the amount of colour you use – the more you use to draw your path, the faster you will travel.
There is a maximum amount of colour you can spend on a single path; anything more is refunded back into your Nerva, so you don't need to worry about overspending.
The speed granted by the amount of drops is not absolute but spread out over the distance you are travelling. Imagine that you are trying to get from point A to point B (see the image below). These areas are two "links" apart. You will move faster if you spend 40 drops first on one link and then another 40 on the other (purple arrows) than you would if you were to draw just one line worth 40 drops over both links (green arrow).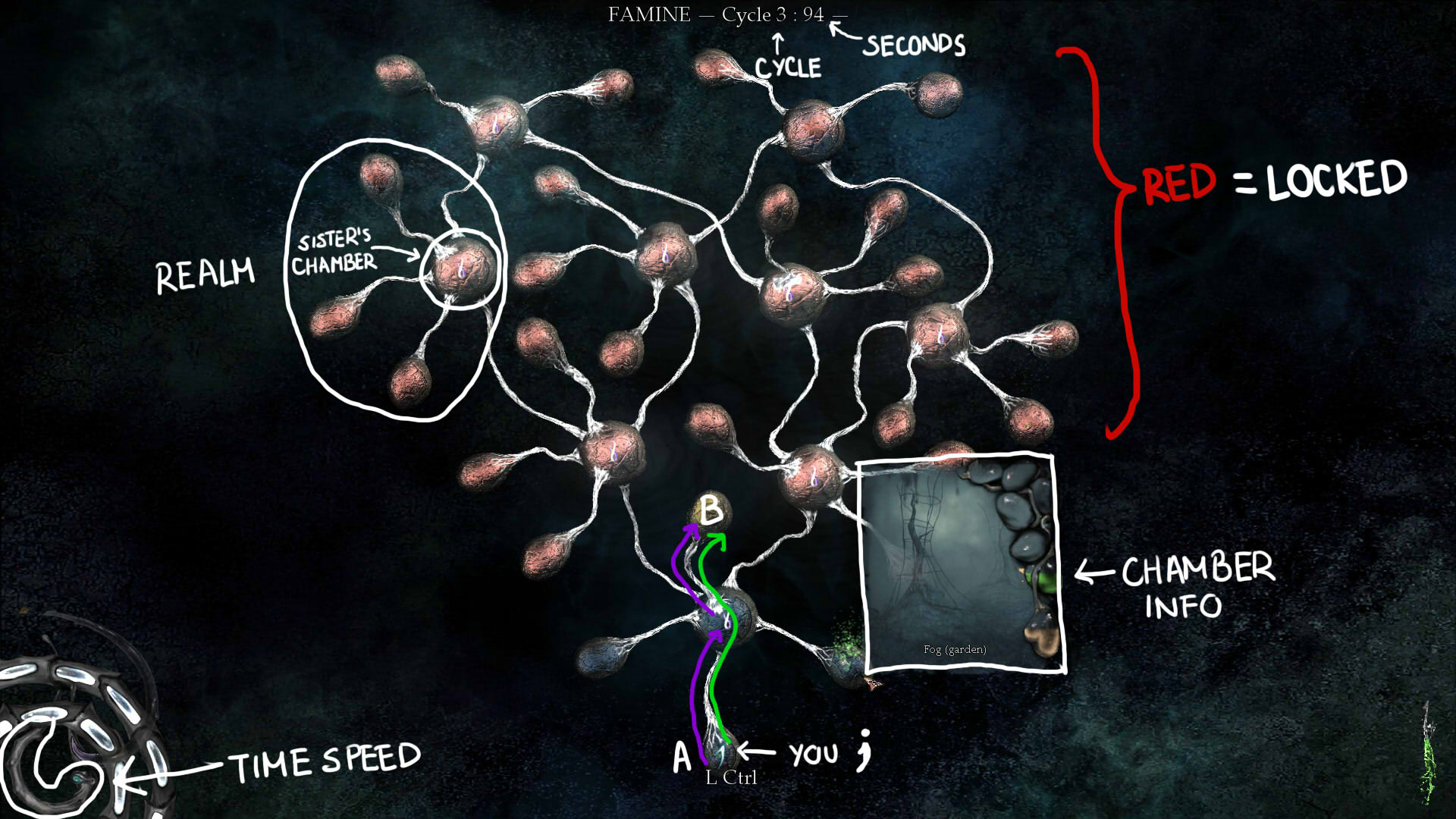 You can use the mouse wheel to zoom in or out. You can right click and drag to move the camera around the map.
Finally, a few notes on time:
Time only passes on the map.
It is measured in cycles – this is the first number in the timer at the top of the map screen near the title of the story chapter. You can think of cycles as "days" – with each new cycle, things change and, usually, more colour spawns in the chambers.
Each cycle lasts 99 in-game seconds.
You can speed up or slow down time using the slider near your health bar in the bottom left corner or by pressing numbers 0-3. 1 is the slowest, 3 is the fastest, 0 is the default. The slider allows for a lot of middle ground. You probably shouldn't be speeding up until you know what you're doing.
The Donor Glyph
Drawing the Donor glyph is notoriously finicky. Here are a couple of tips:
Make it big, then make it bigger. The game can't read your cramped tiny squiggles. Use the whole screen if necessary. This also gives you more margin for error.
Do NOT use the fish-like shape that the game suggests occasionally. The game does not recognise it very reliably.
A guideline that occasionally helps is: make your starting point the highest point of the cliff and your end point the lowest.
If you're still struggling, go to the list of glyphs in your journal (press J and explore different sections by clicking on the symbols at the top – you'll find it) and watch the demo video. The game never shows you the video by default, but it has a few valid variants of the glyph. Alternatively see the image below for a shape that works reliably. You will, however, need to learn to draw these reasonably accurately.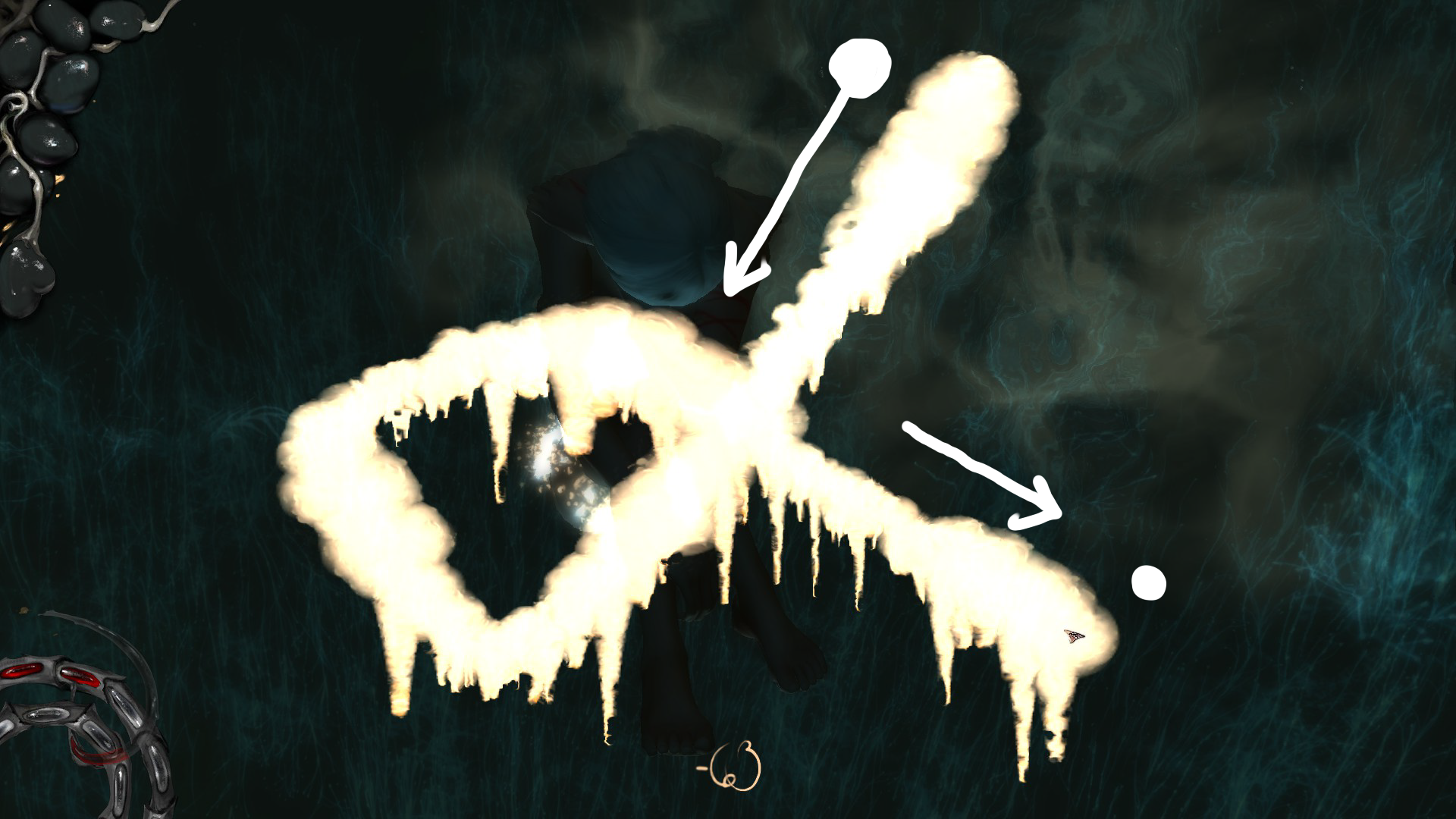 The Donor glyph is mostly used to donate colour to Sisters and trees. However, some uses later in the game will require you to drop a ball of colour on the ground by drawing Donor outside an obscura. I will not spoil the context for this, but the main point you need to know here is that the "effect" of the colour ball is only active when the ball is static – so if you drop it on an incline, you're going to have to wait until it rolls down and stops moving for it to take effect.
Trees and Gardens
Planting colour trees is one of the main ways you keep yourself alive and get enough colour to progress in the game. You can do this in two types of chambers: reservations, which often have a few small capacity trees, and of course gardens, which are far more useful because the trees are much bigger there and continue to increase in capacity in new gardens as you progress upwards through the map. In the starter area, these are Fireflies (the middle chamber) and Fog (the right-hand chamber) respectively.
The most important thing about planting is that you need to fill up every tree FULLY. When you enter a tree's obscura, you can see a bar in the bottom left where your life bar is on other screens (see the image below). As you give colour to a tree, keep an eye on this bar and you'll see it fill up. When it starts flashing, the tree is full. You don't need to worry about overfilling, as any excess colour you "spend" above the tree's capacity goes back into your nerva.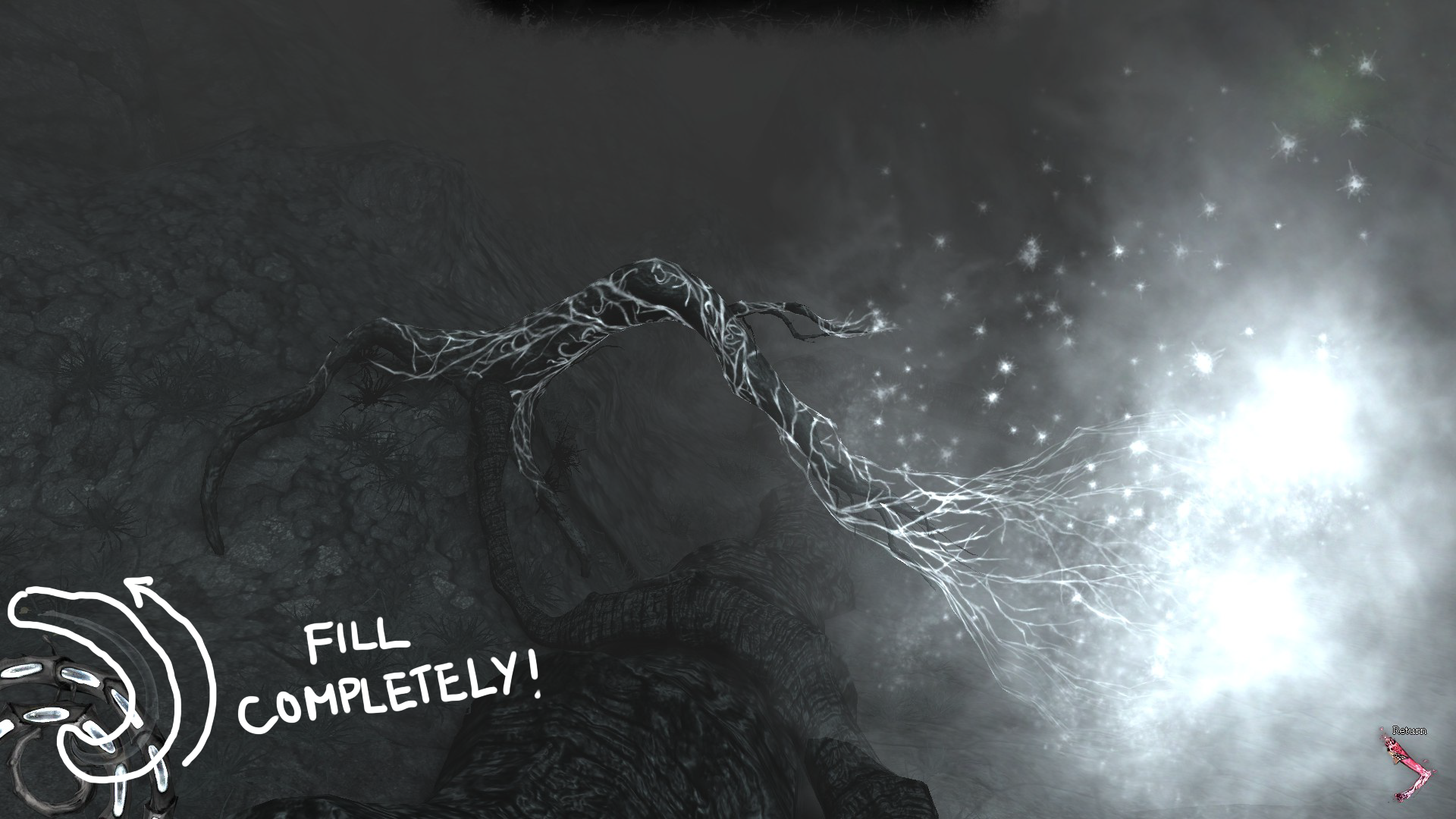 When Nameless Sister tells you to fill a tree "to the tips of the branches", she means it. This is extremely important because you cannot "top up" a tree with more colour once it's planted. It will continue to produce decreasing amounts of colour for a good number of cycles until it dries out completely, at which point it will take another couple of cycles for the tree to recover and allow you to plant in it again. The amount of colour a tree produces directly depends on the amount of colour you put into it, and you have a very limited number of trees available to you in the early game, so you can see how planting half-filled trees or worse can easily screw you over. You can easily end up in situation where you're stuck with a bunch of worthless trees that are barely giving you anything, and you aren't getting enough colour to progress or even survive from other sources.
Which brings me to my second tip regarding planting: do NOT plant more than 1-2 big trees (garden trees) per cycle until you're confident you know what you're doing. Because you have a limited number of trees available to you early on, using up too many before you get access to different colours (some of which you'll need to be able to plant more of to progress) can cause a lot of problems for you later.
Sisters
Note: You don't need to do any of this until you are asked to in the tutorial.
Sisters each have their own hearts that you can "open" (fill) to progress in the map. You do this by donating colour to a Sister via the Donor glyph in her obscura.
Each Sister accepts only two colours – you can see these in the top right corner of her obscura or by mousing over her main chamber on the map.
Sisters' hearts are represented by grey-coloured gems on the outer wheel in the bottom left corner of the screen. When a heart is opened, its gem turns red.
You can mouse over the bar next to the wheel to see how much colour is required to open the current heart. It also shows your progress as you fill it up.
Unlike with trees, overfilling here is possible. When you're filling up a Sister's heart, any colour you spend after the bar starts flashing goes into the next heart rather than back in your Nerva.
Opening a Sister's first heart gives you access to the realm. This means that you will be able to enter the smaller chambers (gardens, mines, etc.) connected to her hub.
Opening a Sister's second heart will let you move on to the next Sister or Sisters beyond her, unlocking new hub chambers.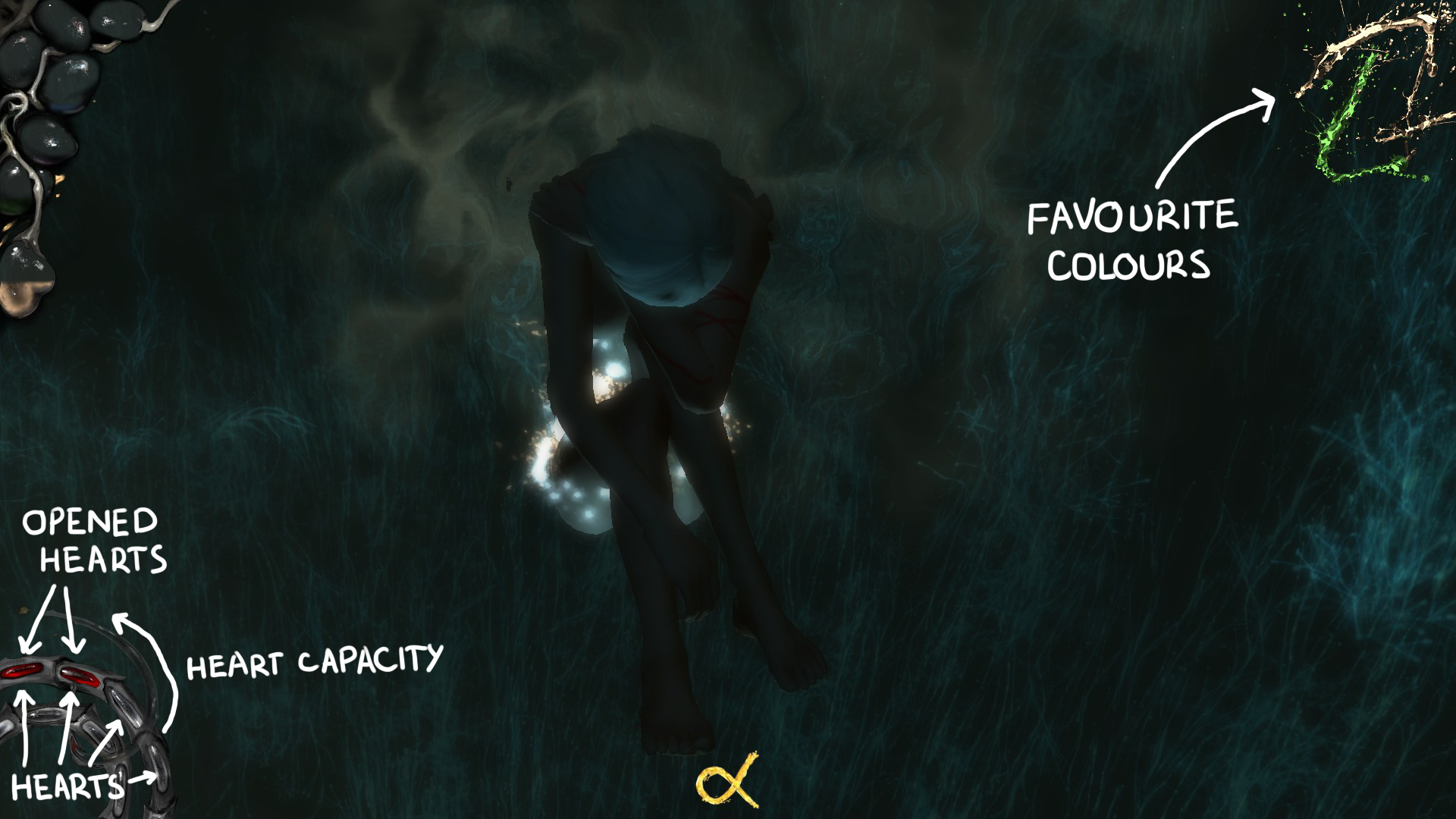 This was written by LamplightBlue